Mirza retains Dubai Creek Club championship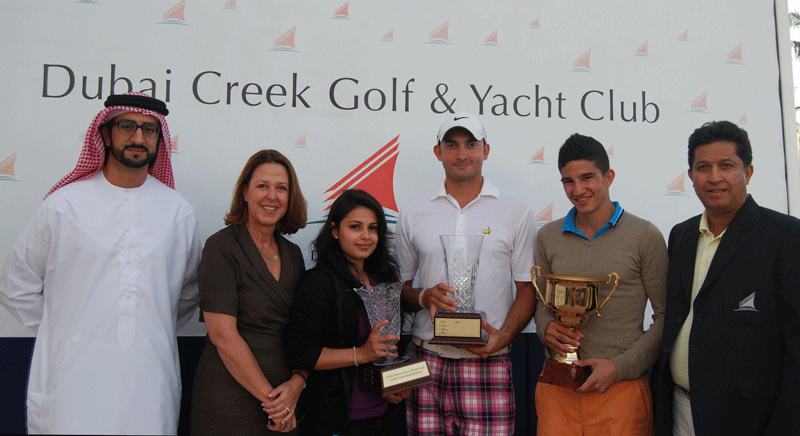 Miki Mirza won the third time Dubai Creek Men's Club Championship sponsored by J. Lindeberg and Chervofor the third time on Saturday.
Over two days of testing golf with gusting, tricky winds, Mirza negotiated a superb first round level par 71 and finished with a 79 over the final day to total 150 and win by a clear six shots.
"Thank you to the club for a great two days of golf and the condition were tough with the wind. Thank you to J.Lindeberg and Chervo for their support with the prizes. Also to Rob the Director of Golf Course Maintenance as the course was in great condition," said Mirza.
Paul King finished runner up with 76 and 80, totalling 156.
King tried to push Mirza all the way but could not apply enough pressure in the blustery conditions. Francisco Giles finished in third place with a total of 159 with solid tee to green play over the two days.
The Men's nett champion was awarded to Janish Khurana with an amazing nett 68 over the first day and nett 79 on the second day totalling 147.
Last year's nett champion Arshad Waheed was one shot adrift with a total of 148 and finished runner up.
D. Y Yoon won the best gross prize on day one with a score of 80 and John Fellingham for day two with 77.
Nasha Sarkari successfully defended her Ladies title with two consistent rounds of gross 80 and 81 totalling 161.
Yuko Tsukiori was crowned Ladies Nett Champion with two scores of 71 and 71 with a very memorable hole in one on the 14th hole on the last day.
Maria Ekelund finished runner up with her nett scores of 76 and 79.
Paul Saad won the Junior Club Championship with gross scores of 80 and 84 and Serifa D'Souza the Junior Nett Prize with 77 and 70.
Follow Emirates 24|7 on Google News.