Ramsay wins Emirates Airline Invitational title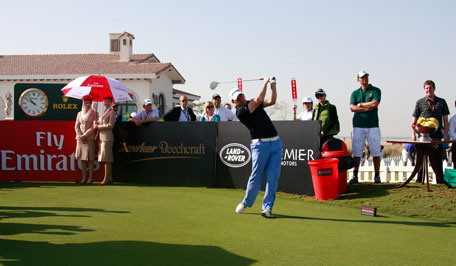 Scotland's Richie Ramsay was crowned champion of the 2012 Emirates Airline Invitational hosted by Abdullah Al Naboodah after a blistering round of 10 under 62 at Yas Links Golf Club saw him finish two strokes clear of Thorborn Olesen and Richard Finch on Monday.

"It's fantastic, it's been a great day," said Ramsay who will donate half of his $100,000 prize cheque to his chosen charities, Help for Heroes and Cornerstones.
"Coming out and shooting 62 in one of the best fields in the world for a pro-am is unbelievable. Mr Naboodah has put on a fantastic show here. Everybody's come out and had a great day, the weather's been fantastic and it's great that you can give something to the charities to make a difference."
The Scot had a phenomenal start to his round after four birdies and an eagle over his first five holes. His only bogey of the day came at the sixth when his putt for par slid past agonisingly close to the cup. But he got right back in the groove, sinking a huge putt of over 30 feet for eagle at the seventh and admitted afterwards that after being so quick out of the blocks he had thoughts of shooting 59.
"If I had knocked that putt in on six I thought it could have gone really low. I could have been 9-under after nine. But I holed a 35-footer for eagle on seven so you've got to take the good with the bad sometimes and there was a lot of good in there. I made some nice putts on the back side to keep the momentum. It was just a great day.
"Kyle Phillips has done an unbelievable job here. You wouldn't think just coming here that you could shape the land into something like this and having the water right next to it is beautiful. It plays really well and I've been very impressed with it. When you get weather like this it's great to come out here and playing on a course like this makes it even better."
After winning golf's most prestigious one-day event in a field that included the likes of Ryder Cup stars Sergio Garcia and Graeme McDowell, Ramsay, whose only win on The European Tour came in the 2010 South African Open Championship, is feeling confident about the year ahead.
"Any win always gives you confidence but it's the strength of the field here that really does it. Pretty much all the pros who teed it up here today are European Tour players and most of them are winners. You've got the likes of Garcia and McDowell coming down the stretch so it's really nice to chalk up a victory and I'm looking forward to the rest of the season."
Garcia, making his second appearance at the Invitational but his first at Yas Links, was impressed with the unique desert links.
"It was good, it was my first time playing this course and we had a great time," said the Spaniard after shooting 71. "They've done a really good job with the course. It's easier if you know it as there are some tricky lines, like with a lot of links courses but it's very nice.
Defending champion Retief Goosen was disappointed to shoot 74 on his return to Yas Links but an ace on the par-3 eighth proved a nice bonus. However, unlike last year when the feat would have won him a brand new car, this year the hole-in-one contest – to win a Range Rover Sport - was moved to the 17th!
"The hole-in-one was the only good shot I hit today!" said Goosen. "I played horrifically badly today – quite the opposite to last year. I heard they moved the contest for the car to the 17th, which is typical – just my luck."
Olesen and amateur partner Rob Hersov took the spoils in the pro-am section with a combined score of 11-under 61.
Follow Emirates 24|7 on Google News.