Rose and Henman pairing win golf-meets-darts contest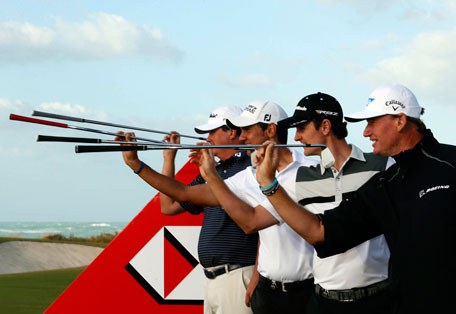 As the world of golf fixes its gaze on Abu Dhabi Golf Club for this week's eighth Abu Dhabi HSBC Golf Championship, four Falcon trophy contenders – the USA's Jason Dufner, South Africa's Ernie Els, England's Justin Rose and Italy's Matteo Manassero - have experimented with a hybrid golf-meets-darts contest at Saadiyat Beach Golf Club, an eco-conscious course on the emirate's environmentally-protected Saadiyat Island.

With each golfer partnering an HSBC global sporting ambassador, the two-man teams were challenged to play 109-yard approaches onto the sixth green of the Gary Player-designed ocean-front course.

Each shot accrued points based on where the ball landed in rings of natural grass or sand circling out from the pin.

A hole-in-one scored a team 360 points, the five-feet ring 180 points, the 10-foot ring 140 points, the 15-foot ring 100 points and the 20-foot ring 60 points.

Balls which landed on the green but outside the rings accrued 20 points.

The format was simple: teams were split into semi-finals and given six shots – or darts – in total with each player taking three.

The team with the highest score after six shots would progress.

The first semi-final saw golf's world number five, Justin 'Valentine' Rose, and Tim 'Tiger' Henman, England's most successful tennis player of the 90s and a former British number one, face-off against golf's world number nine, Jason 'Dangerous' Dufner, and Jonathan 'The Wizard' Davies, the dynamic Welsh rugby fly-half.

With a feverous crowd looking on, Rose and Henman judged the warm Saadiyat Beach breezes to near-perfection.

Still, the English duo trailed Dufner and a red-hot Davies by 40 points as Henman readied for his final shot.

The former world number four's towering wedge eventually pitched in the outside ring to score 60 points and seal victory by a mere 20 points.

"That was a special bit of fun before the tournament," said an upbeat Dufner. "Fair play to Tim, he stepped up when it counted."

The second semi-final saw 19-year-old golf sensation 'Mighty' Matteo Manassero and Gareth 'The Prince' Edwards, rugby union legend and former Wales and British Lions scrum-half, square-up to reigning Open champion, Ernie 'Big Easy' Els and Gavin 'Braveheart' Hastings, the former Scotland rugby captain and one of the greatest full-backs of all time.

There was nothing close about the second semi, however, as Manassero and an inspired Davies smashed the Els-Hastings duo 580-120.

"It was good fun on a beautiful hole and that's the first time in my life I've played with a red ball," Els said of the Championship red balls of title sponsor, HSBC. "And it'll be the last - I was horrendous."

The final was another one-way affair. Rose and Henman, buoyed by their last-shot semi-final win, set a mammoth six-shot target of 620 for Davies and Manassero, who couldn't replicate their earlier effort and fired a total of 420. The English duo was victorious.

"I brought my 'A' game and I've definitely honed my competitive edge ahead of the Championship," joked Rose. "Tim was superb, he kept us in going in that first game. Hopefully this is the first victory of many this season."

The golf-meets-darts exhibition was also a victory for The St. Regis Saadiyat Island Resort, the Championship's new hotel partner, which is nestled in the grassy fairways and natural sand dunes of Player's ocean-front masterpiece.

"Championship week has got off to a flying start for the team at The St. Regis Saadiyat Island Resort," said John Pelling, the hotel's General Manager. "The hotel's world-class facilities and St. Regis bespoke service has received universal praise from all the players staying with us, while the on-course drama of the Saadiyat Beach Bullseye provided great entertainment for our guests and spectators. We look forward to welcoming Justin and Tim for their well-deserved stay in the St. Regis Suite in the near future."

Rose, Els, Dufner and Manassero are all in action at the four-day Abu Dhabi HSBC Golf Championship, which starts Thursday.

Championship tickets are available via the event's official website – www.abudhabigolfchampionship.com - as well as online at www.timeouttickets.com. Customer service can be contacted through the ITP toll-free hotline 800 4669, or for international visitors, +971 4 444 3459. Tickets can also be bought at the gate throughout the Championship.

Championship sponsors have also rolled-out fan-friendly mechanisms for spectators to secure free entry. Members of Etihad Guest, the frequent flyer programme of Etihad Airways, the UAE's national Carrier, and HSBC customers will be waved in when they show their cards at the gate, while Cadillac car key holders can also watch the world's best for free by presenting their Cadillac car key at the entrance.

Additionally, spectators wearing a Nike tick also avoid paying for tickets, while ladies enter free on Friday - the Championship's official 'Ladies Day'.



Follow Emirates 24|7 on Google News.