Ryder Cup hero Rose ready to roll in Abu Dhabi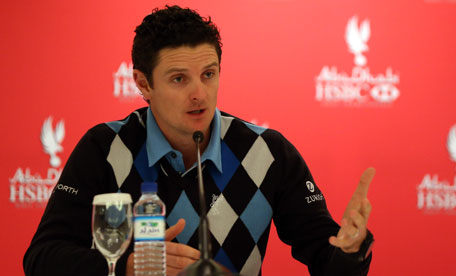 World number five, Justin Rose, has attributed his pivotal Ryder Cup performance with revitalising his own trust in his game and says he has never felt so confident heading into a new season.

Rose, making his Abu Dhabi debut this weekend, believes his Ryder Cup heroics could be the turning point in his career and is relishing taking on the world's top players – including Rory McIlroy, the world number one, and 14-time Major winner, Tiger Woods - at the US $2.7 million Abu Dhabi HSBC Golf Championship.

"I think the Ryder Cup was big for me," said Rose. "I was really making putts when I needed to - that was huge. Backing it up in Turkey was another big week for me confidence-wise and in Dubai, the way I went down the stretch there, I had my final round going but then didn't let up. I just kept hitting good shots and felt like the more the pressure was on, the calmer and better I became."

After a quick break during the winter off-season where he spent time with his young family, Rose revealed he has a good balance and is ready to strike for more silverware.

After landing the biggest title of his career at the WGC-Cadillac last year, where he held off Bubba Watson and Rory McIlroy at Doral Golf Resort and Spa, the 32-year-old has his sights firmly set on the Falcon Trophy in Abu Dhabi.

"You know, I'm very happy with my skill set," he said. "I'm very happy that I can close the gap or hopefully make the gap disappear with some hard work. I just need to continue what I'm doing."

As well as McIlroy and Woods, Rose will need to usurp a world-class field featuring three-time Abu Dhabi winner Martin Kaymer, the towering German who sunk the pressure-packed six-footer to win the Ryder Cup for Europe.

Kaymer surprisingly missed the cut in Abu Dhabi 12 months ago and faces the daunting prospect of playing in a star-studded three-some with McIlroy and Woods on Thursday and Friday.

Kaymer, a former world number one, has a special connection with Abu Dhabi Golf Club's National Course and retains high hopes of clinching a fourth Abu Dhabi win.

Despite confessing 2012 was not his best year, the world number 28 revealed: "I expect myself to play a lot better (this year) and be in contention more often because I gained a lot of confidence (towards the end of the year). I played better golf; that's just a fact.

"I'm more confident in my swing again. The head is a little bit more mature and I have more experience on the golf course. So it's not a bad combination. But on the other hand, I just don't want to put too much pressure on myself. I just want to enjoy the season."

Jason Dufner, another Abu Dhabi debutant, is also looking to enjoy his first Abu Dhabi outing: "It played pretty tough today," said the American, who played the National for the first time during Wednesday's Pro Am.

"The wind, obviously, is up; the fairways seem to be mown in tight, and the rough is definitely up.

"It's going to be a challenging test, especially if these untypical winds stay up through the week. Hopefully it will die down for us a little bit and make it a little bit more scorable out there."

Championship tickets are available via the event's official website – www.abudhabigolfchampionship.com - as well as online at www.timeouttickets.com. Tickets can also be bought at the gate throughout the Championship.

Championship sponsors have also rolled-out fan-friendly mechanisms for spectators to secure free entry. Members of Etihad Guest, the frequent flyer programme of Etihad Airways, the UAE's national Carrier, and HSBC customers will be waved in when they show their cards at the gate, while Cadillac car key holders can also watch the world's best for free by presenting their Cadillac car key at the entrance.

Additionally, spectators wearing a Nike tick also avoid paying for tickets, while ladies enter free on Friday - the Championship's official 'Ladies Day'.
Follow Emirates 24|7 on Google News.