UAE junior golfers win gold medal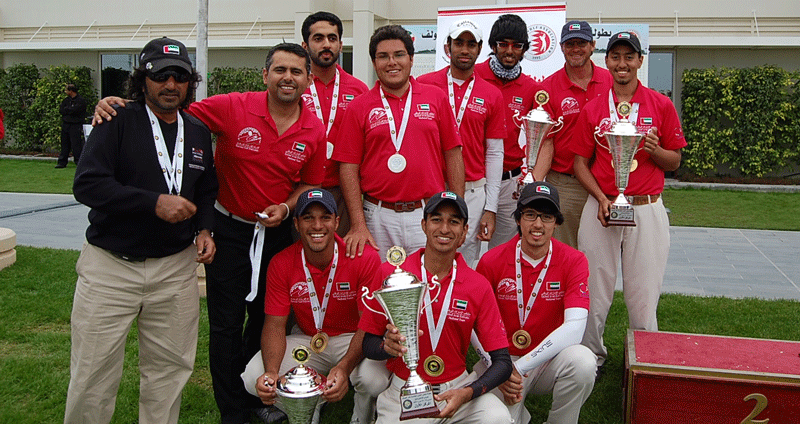 Sohail Al Marzouqi and Hassan Al Musharrekh combined effectively to guide the UAE team to a brilliant gold medal triumph in the junior division of the 15th GCC Golf Championship held at the Royal Golf Club in Bahrain.
Sohail, who plays off a 10 handicap, shot solid rounds of 81 and 78 while Hassan (three handicap) chipped in with 83 and 78 as UAE posted a gross total of 320 to beat their nearest challengers Qatar by a good four strokes.
Faisal Al Marzouqi was the other member of the team that did the country proud by going the full distance to improve upon their runners-up finish last year.
Sohail also had the distinction of finishing second in the individual division with a gross 158, just one shot behind gold medal winner Ali Al Bishi of Qatar and one ahead of third-placed compatriot Hassan.
The UAE had something more to cheer about when their senior team, comprising Ahmed Al Musharrekh, Khalid Yousuf, Abdulla Al Musharrekh and Faris Al Mazroui, finished runners-up to Bahrain. The UAE team, who finished third last year, posted a gross score of 701 to Bahrain's 683. Saudi Arabia settled for third on a gross 753.
Khalid Yousuf (75, 78 and 84) and Abdulla (81, 79 and 79) were the other major contributors to the UAE team's score. According to the format, the top three scores were counted towards the total in a team of four in this 54-hole stroke-play event.
Ahmed Al Musharrekh, who followed up his gross 76 and 77 in the first two rounds with a superb level-par 72, was later declared winner of the individual gold medal with a total of 225, two ahead of Bahrain's Nasser Yacoob Salah and four of Hamad Afnan, also of Bahrain.
With one team gold, one individual gold, one individual silver and a runners-up place under their belt, the UAE had every reason feel proud about their performance of the boys at the championship which attracted six GCC teams.
Khalid Al Mubarak, manager of the UAE team, congratulated all members of the team for producing some good scorers when it mattered most. "The boys stayed focused on the job at hand and delivered the results expected of them.
"Their overall performance during the championship also reflects on the growing standards of the game among UAE nationals. The aim is to keep better and better every year," said Mubarak who also thanked UAE national team sponsors Emirates NBD, Al Naboodah and Callaway/Cutter&Buck for their valuable support to the team.
"Last but not least, I would to like congratulate national coach Chris Vallender for all the hard work he put in honing the competitive edge of the boys," he said.
Results:
Senior Division:
Team scores: 1. Bahrain (gross 683), 2. UAE 701, 3. Saudi Arabia 753, 4. Kuwait 806),5. Oman 807, 6. Qatar 877.
Senior division (Individual): 1. Ahmed Al Musharrekh gross 225 (76, 77, 72), 2. Nasser Yacoob Salah 227 (74, 79, 74), 3. Hamad Afnan 229 (75, 76, 78).
Junior Division:
Team scores: 1. UAE gross 320, 2. Qatar gross 324, 3. Bahrain gross 331, 4. Oman gross 355, 5. Saudi Arabia gross 1285
Junior Division (Individual): 1. Ali Al Bishi (Qatar) gross 158 (79, 79), 2. Sohail Al Marzoqui (UAE) 159 (81, 78), 3. Hassan Al Musharrekh (UAE) 161 (83, 78).
Follow Emirates 24|7 on Google News.