Walker hangs on to win Pebble Beach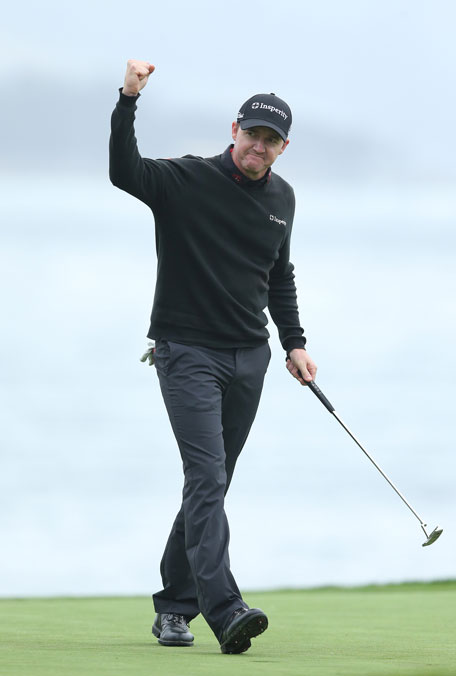 Jimmy Walker did it the hard way, almost squandering a huge lead before registering a nervous one-stroke victory to continue his hot start to the season at the $6.6 million Pebble Beach National Pro-Am on Sunday.

Walker began the day with a six-stroke lead but he made hard work of it with consecutive bogeys at the 12th and 13th holes that opened the door to his rivals at Pebble Beach.

He steadied the ship down the stretch for the most part, hitting a series of precise shots, before a three-putt bogey at the penultimate hole left him with a tenuous one-stroke lead going to the par-five 18th.

But Walker managed a nervous par, sinking a five-footer to stagger across the finish line with the victory after running his first putt past the hole.

"I hate three-putting," Walker told the Golf Channel. "I had a couple but managed not to do it on the last hole. I made a really good putt.

"I tried to blank everything out that was going on, tried to go about it as businesslike as possible."

He carded a two-over 74 to finish at 11-under-par 276, with fellow Americans Dustin Johnson (66) and Jim Renner (67) equal second on 10 under par.

It was Walker's third victory in eight starts at the start of the season - a feat achieved since 1995 only by Tiger Woods, Phil Mickelson and David Duval, according to the PGA Tour.

The 35-year-old from Oklahoma collected nearly $1.2 million to increase his lead on the PGA Tour money list with more than $3.6 million and his lead in the FedEx Cup points standings.

Walker was relieved rather than ecstatic, admitting that trying to protect a big lead was an unnerving experience.

"It's a different feeling when you've got a lead like that," he said. "You know pars are going to be good enough. I just struggled a bit with the speed of some of those greens and some of the chipping."

About the tournament-winning putt, he said: "I was thinking good set-up, keep your head down, don't watch the putt, make a good stroke. I think I peeked on 17 and so learned from it."

NECK SETBACK

He may seem like an overnight success, but in reality he has steadily progressed since 2008, when he finished 192nd on the FedEx Cup standings.

Three years earlier, he badly hurt his neck during a practice swing, an injury that was diagnosed as a bulged disc and caused him to miss most of the 2005 season.

That setback no doubt delayed his emergence as a big-time player, but he has improved his ranking every year since, and last season finished 26th on the list despite not winning.

He finally broke through in his 188th start to win the opening event of the 2013-14 "wraparound" season last October.

Walker said that victory taught him the importance of staying on an emotional even keel - something he needed to draw on Sunday as the lead seeped away.

He seemed to be cruising to victory when he made a 10-foot birdie at the 11th hole to take a six-stroke lead.

But he misclubbed at the par-three 12th, firing a four-iron beyond the green for bogey. He three-putted the next to drop another stroke and suddenly the lead was only three strokes.

Johnson, a two-time Pebble Beach winner, and Renner both birdied the last to cut the margin to two.

That set the stage for some unexpected drama and the possibility of an epic collapse, something that Walker avoided, if only barely.

Follow Emirates 24|7 on Google News.