Watson joins elite with Torrey Pines victory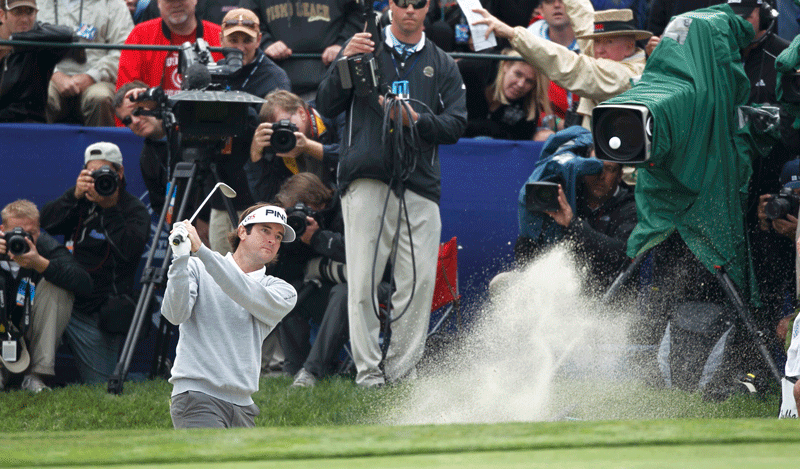 Best known for his power hitting with a pink-shafted driver, American Bubba Watson became only the fifth left-hander to win multiple times on the PGA Tour after clinching the Farmers Insurance Open on Sunday.
The 32-year-old cemented his place alongside fellow southpaws Phil Mickelson, Mike Weir, Bob Charles and Steve Flesch with a one-stroke victory at Torrey Pines and is likely to break into the world's top 20 for the first time on Monday.
Though he played superbly in the final round under intense pressure as he closed with a five-under-par 67 on the South Course, Watson said he felt like a bag of nerves in pursuit of his second triumph on the US circuit.
"I was scared to death out there," the long-hitting Watson told reporters after holding off a late charge by three-times winner Mickelson, who finished alone in second place.
"No matter how many rounds of golf you played, how many times you've been in the lead, and how many times you've won, you still get nervous.
"I kept telling myself I've done this before. I've hit many golf balls. I can do this. I've shot many low rounds before. It's just this time happens to be with the crowd and media and everybody in the world watching."
One ahead of the chasing pack playing the last, Watson signed off with a birdie four and a 16-under total of 272. He then waited for Mickelson, in the final group, to finish one stroke behind him with a matching birdie on 18.
"It was a great day," said Watson, who claimed his maiden PGA Tour title at last year's Travelers Championship. "I knew that I had a chance to win a golf tournament.
"I just kept my head down and focused on my goals and what I wanted to do. I birdied all the par-fives today, like you need to do. Somehow it came out to a five-under (round), and I won by one."
Asked if he felt he could become a top-five player in the world, Watson replied: "In my mind, I believe I can. Now actually producing it on the golf course is a different story.
"I want to be number one in the world. I want to win every golf tournament. Next week (at the Phoenix Open) I'm going to try to win. I want to perform every week.
"I've believed it, but haven't really executed the way I want to. I get down. So if I can just stay up and not be down on myself all the time, yes, I believe I can get there."
Watson, who enjoys engaging with his fans on the social network Twitter, said an ongoing problem for him has been a tendency for his mind to wander while out on the course.
"I'm looking at how beautiful the water is, I'm looking at stuff I shouldn't be looking at while I'm trying to play golf," he added.
"So my caddy's like: 'Get focused. We're playing golf still'. It's going to be hard for me, but I'm trying to do it (to focus) on my own. So far it's working."
Follow Emirates 24|7 on Google News.