Westwood, Mickelson open season in Abu Dhabi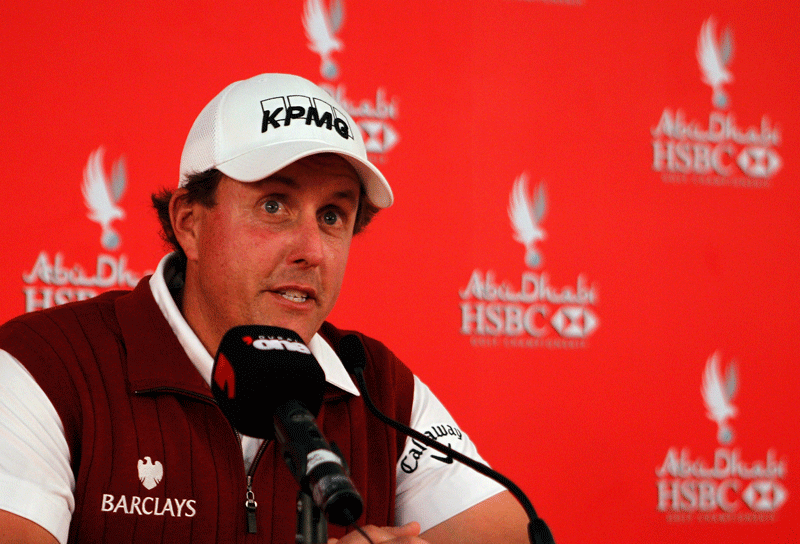 World number one Lee Westwood leads a star parade at the Abu Dhabi HSBC Golf Championship, which kicks off the four-tournament Desert Swing of the European Tour from Thursday.
Along with Westwood, the focus will be on the four Major champions of last year - Phil Mickelson (Masters), Graeme McDowell (US Open), Louis Oosthuizen (Open Championship) and Martin Kaymer (PGA Championship) - who are all entered for the $2.7 million tournament, which is being played at the National course of Abu Dhabi Golf Club.
For the first time in his career, Mickelson will be starting the season outside the United States, and his first visit to the Middle East with the entire family, including wife Amy, has given credence to his recent resolution of becoming a more global player.
But even as he spoke about his excitement of starting his new season in a completely foreign country, Mickelson refused to get drawn into any comments about his plans to overthrow Westwood from the number one position in world golf rankings.
Mickelson, who now plays regularly in Shanghai, Singapore, Japan and Scotland, said: "I started practising a little bit earlier than normal because I'm antsy and excited to start the year and the opportunity to play here on a wonderful golf course in great weather in a beautiful country.
"It's a great place to start the year.
"I think I feel fortunate that golf has allowed me an opportunity to experience so many different cultures and countries throughout the world.
"I don't know if it makes me a better player or not. Hopefully it does. But being able to play different courses in different conditions can only enhance me as an overall player.
"My goal this year is to have the year I expected 2010 to be. With the exception of the Masters, it wasn't the year I had hoped for.
"And so, I've been working hard in the off season to make 2011 the year I believe I can have and the one I had hoped for last year."
While Mickelson may be actively trying to block out any thoughts of becoming world number one, Westwood has embraced his new-found status and is no mood to let it go, or trade it for a Major title.
"It would be nice to go to the Masters as the world number one, but it's not something I really focus on," said Westwood, who finished second here in 2009 and missed the cut last year.
"If I play well in the tournaments, then that takes care of itself. It is very reflective of the way people play. My main goal is to try and win some of these early season tournaments.
"And no, I wouldn't swap anything. Because in sport, and especially golf, you get what you deserve.
"I've worked incredibly hard over 17 years, or even more than that, to get to world number one, and I'm not going to give it up for anything.
"If I win a Major championship, then I will have deserved it. Currently, I haven't got one which means I haven't done the right things at the right time."
European number one and world number three Kaymer is the defending champion, and having won the tournament earlier in 2008, he clearly loves the venue.
"I think the success that I had here in 2008 gave me the belief, that in 2009 and 2010 I can play well here," he said.
"I don't really have to think about what kind of club I have to hit on this hole, where do I have to place the ball when the pin is here or there. I know and I know it is worked out at one stage already.
"So, it's a lot of confidence and it's very comfortable for me to play here. It suits my eye."
As for his plans, Kaymer again came up with a surprisingly modest one - to make the cut at the Masters this year.
The German, who has failed to make the cut on his three previous visits to the Augusta National, said: "That's pretty much my goal, to play the Masters well, or to at least make the cut and have a good chance to finish in the Top 10."
Follow Emirates 24|7 on Google News.