Woods aims to end drought in Dubai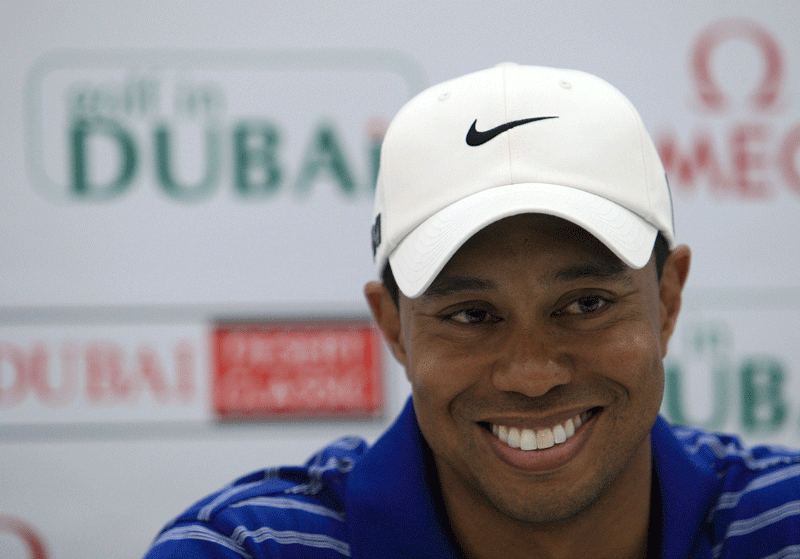 World number three Tiger Woods is determined to regain his top rank by returning to winning ways at the Omega Dubai Desert Classic which gets underway at the Majlis course on Thursday.
The former world number one was in a bullish mood at a pre-tournament press conference on Wednesday morning after playing in the Pro-Am tournament pairing with a US army officer serving in Afghanistan.
However, the two-time winner of the Dubai Desert Classic is relishing the challenge of playing with top-ranked Lee Westwood and number three Martin Kaymer who have overtaken him in the world rankings.
"It's going to be fun," said Woods who will tee off with the top duo at 12.20pm.
"The last time I played in a group like this was at the US Open in 2008, it was the top three guys (me, Phil Mickelson and Adam Scott) and we had a lot of fun."
Woods has not played as much with German Kaymer, 26, as he has with 37-year-old Briton Westwood.
"I've always had a great time with Lee," said the 35-year-old American. "We have been on tour for about the same amount of time.
"We have also been paired together at a few Major championships and I've always gotten along really well with Lee."
It will be the first time Kaymer has competed alongside Woods, a player he first admired in watching television coverage of the American's 12-shot victory in the 1997 US Masters.
It is the first time in 17 years that the world's top three ranked golfers have competed in a regular European Tour tournament.
Mohamed Juma Buamain, vice-chairman and CEO of Golf in Dubai, said ticket sales were up 30 percent compared to last year when Woods elected not to compete in Dubai following the turmoil that overtook his private life.
Woods has gone 14 months without a victory and knows he must start winning consistently again before he can think of returning to the top of the rankings.
"I have been out here long enough now (to know) it's about sustainability," said the 14-times Major winner who finished 44th last week in the Farmers Insurance Open after closing rounds of 74 and 75.
"The guys who have been number one when I've been out here playing - how they got here, they won golf tournaments.
"That's how David (Duval) got there, how Vijay (Singh) got there, how Lee got there - and you have to do it for long periods of times," added Woods who is without a win since the 2009 Australian Masters.
Woods played on Wednesday with Lieutenant Colonel Michael Rowells. Nine-handicapper Rowells, on a 12-month deployment in Afghanistan with the 401st Army Field Support Brigade (SB), was among 16,000 amateur golfers from around the world who registered for the Tiger Woods pro-am competition.
It was an especially pleasant experience for Woods given that his late father Earl was a former Green Beret.
"It was really special playing with Michael," said the world number three. "We really don't get the chance to thank our servicemen and women enough for what they do.
"He has a little bit of a connection to my dad which is nice. He works with the 12th group which is a reserve unit for the SB. My dad was in group two so it's nice to talk about things like that."
Woods, who won this tournament in 2006 and 2008, is in the last year of a long-term contract with the Dubai Desert Classic organisers and was not sure if the deal would be extended.
"I'm here just to win this week and we'll see what happens (after that)," he said.
Woods believes he needs more time to master his new swing, but insisted his game is progressing well and he is trying to get better each and every week.
"I am feeling a lot more comfortable coming this week after working on some things that showed up in my first tournament of year at Torrey Pines," said Woods who joined forces with Canadian coach Sean Foley last August to work on the fourth swing change of his professional career.
"Sean and I are sticking with the game plan and it's working out well. I have made a complete overhaul on my swing and that has taken quite a lot of time. You don't make changes and just start winning a bunch of golf tournaments. It doesn't work that way. It takes time.
"But the goals are the same. If I am in the event, it's to win. I have certainly lost a lot more tournaments than I have won, but I tee it up to win," said Woods who last hoisted a trophy in triumph on November 15, 2009, but could well end the losing streak this week.
"It has always been a lot of fun coming over to Dubai. I enjoy the (Majlis) course and have had a little bit of success on it. I am looking forward to getting out there and playing (well) this week," said Woods who is 82 under par for the 20 rounds he has played over the Majlis course.
"The difference this year is that we have not played without overseed on the greens and there is a lot more grain on the greens. They are running very true. We will see what happens as the tournament progresses and see if they dry out or not because they have the potential of being pretty firm.
"Any kind of warm weather will dry them out and it will be a really good test come this weekend," said Woods who is making his sixth appearance in the tournament, promoted and organised by golf in Dubai.
Also, making his sixth appearance in the event is Rory McIlroy, who incidentally won his first professional title here in Dubai in 2009. "I have played this event more times than anywhere else. It's always nice to get back to a golf course that I have had success on before.
And he is keen to repeat the 2009 performance in an event where the presence of the world's top three in a regular has added to an already prestigious event.
"I'm actually quite happy that I'm on the other side of the draw so I can watch a bit of it on TV - that will be quite good," added McIlroy.
"It's fantastic for the tournament, and hopefully I can come in under the radar and post a couple of good rounds early on and get myself in a good position going into the weekend.
"I think it feels different because you've got the best three players in the world here this week. Plenty of points up for grabs and plenty to play for."
There will be 46 three-ball matches during the first two rounds on Thursday and Friday in a record 138-player field. Defending champion Miguel Angel Jimenez will tee-off at 8am with Qatar Masters winner Thomas Bjorn of Sweden and Italian Matteo Manassero.
Follow Emirates 24|7 on Google News.