Woods and McIlroy stumble in Abu Dhabi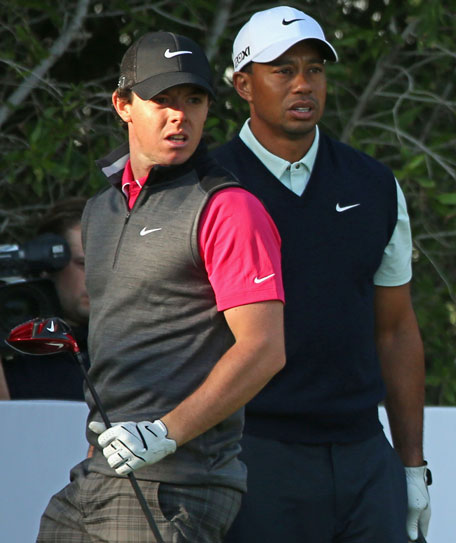 Rory McIlroy was reduced to a bit-part role and Tiger Woods struck one of the worst shots of the day as Britons Justin Rose and Jamie Donaldson stole the show in the HSBC Abu Dhabi Championship first round on Thursday.

Rose and Donaldson led the way with five-under 67s as winds gusting up to 20 mph made scoring difficult in the opening event of the European Tour's three-week desert swing that also includes the Qatar Masters and Dubai Desert Classic.

Sharing third place on 68 were Spain's Pablo Larrazabal and Thorbjorn Olesen of Denmark.

World number one McIlroy made the worst possible start when he somehow contrived to putt the ball into a greenside bunker at the 10th hole, his first.
He escaped with a par but two double-bogeys later in the round meant he slumped to a three-over 75.

The 23-year-old Northern Irishman signed a massive sponsorship deal in Abu Dhabi on Monday but he refused to attribute his lacklustre display to his new Nike clubs.

"Of course, it takes time to get used to ... it's a little bit of an experimental period," the twice major winner told reporters.

"I guess when you're going out with new stuff you're always going to be a little anxious.

"I just felt like I wasn't swinging that well. For the most part I was very happy with everything."

McIlroy's playing partner Woods made a trademark charge with three birdies in four holes from the 15th but then completely duffed his drive at the first, the American striking the ground behind the tee peg before squirting the ball out just 120 yards.

"My game plan was to hit a three-iron or five-wood on that hole and then I changed my mind," said the world number two.

"I should have just backed off and followed my game plan. I had a strategy for the day and clubs I was going to use and what spot I was going to hit it to. I didn't do that there, paid the price and made bogey."

It's the seventh time that Woods, 37, has scored better than McIlroy, 23, in the past nine rounds that they have been paired together.

McIlroy, who was runner-up to winner Robert Rock at last year's HSBC event, hit five fairways in the first competitive round with his new driver, and ended the day with two double-bogeys, two bogeys and a birdie.

World number five Rose also made a hash of the first holes as he opened with a bogey five.

The Englishman then moved through the gears at the Abu Dhabi Golf Club, picking up birdies at the second, third, fifth, eighth, ninth and 10th.

In-form Welshman Donaldson followed up his tied 16th finish at last week's Volvo Golf Champions event in South Africa with a polished six-birdie display in the Middle East.

"This is a tough course, it's tricky out there, and I'm chuffed with the score," he said.

"I made a few good up-and-downs and holed a bunker shot.

"Five-under is a great start because if you're slightly off here you can be severely penalised. The rough is quite penal and you've got to keep it out of there."


Follow Emirates 24|7 on Google News.