Woods' former swing coach writes Tiger tales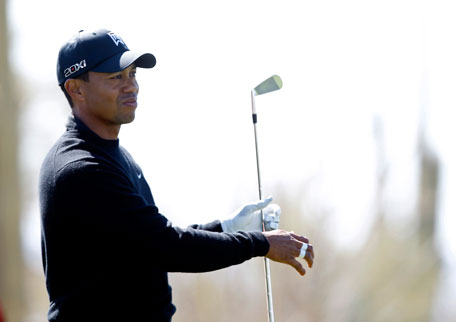 'The Big Miss', a book written by Tiger Woods' former swing coach Hank Haney, will be released in March and offer a personal account of the six tumultuous years they spent together before the golfer's life imploded in scandal.
The book, described as a "candid and surprisingly insightful account" by publishers Crown Archetype at Random House, Inc., reviews the highly successful partnership between Haney and Woods which led to six Major championship victories.
However, the book also addresses Haney's two biggest challenges while working as swing coach for 14-times Major winner Woods - arguably the greatest player of all time.
"Always haunting Tiger was his fear of 'the big miss' - the wildly inaccurate golf shot that can ruin an otherwise solid round," Crown Archetype said in a synopsis of the book on the Random House, Inc. website.
"It was because that type of blunder was sometimes part of Tiger's game that Hank carefully redesigned his swing mechanics."
The book will be published March 27, a week before the 2012 Masters.
Haney's biggest task was to try and solve "the riddle of Tiger's personality", Crown Archetype said.
"Wary of the emotional distractions that might diminish his game and put him further from his goals, Tiger had developed a variety of tactics to keep people from getting too close, and not even Hank - or Tiger's family and friends, for that matter - was spared 'the treatment'.
"Toward the end of Tiger and Hank's time together, the champion's laser-like focus began to blur and he became less willing to put in punishing hours practising - a disappointment to Hank, who saw in Tiger's behaviour signs that his pupil had developed a conflicted relationship with the game."
Haney took over as Woods' swing coach in March 2004 and over the next six years he helped the American win 31 PGA Tour events, including the six Major titles.
In late 2009, Woods' life on and off the course was seismically transformed following revelations of his marital infidelities. He parted company with Haney a month after the 2010 Masters, where he tied for fourth after a self-imposed, five-month exile from the game.
During those six years, however, Haney enjoyed a unique front seat as Woods maintained his position as the world's leading player.
Haney was with Woods for 110 days a year, spoke to him for more than 200 days a year and stayed at the player's Florida home for up to 30 days a year.
He observed Woods in a wide variety of circumstances, including during tournaments, on the practice range, over meals, with the player's former wife and while relaxing with friends.
Haney, who had succeeded Butch Harmon as Woods's swing coach, described his liaison with the game's top player as "a dream come true" after the two parted ways in May 2010.
He added: "I will always appreciate the opportunity that I have had to contribute to his successes. However, I believe at this time that it is in both of our best interests for me to step aside as Tiger's coach."
Haney has since been replaced as Woods' swing coach by Canadian Sean Foley.

Follow Emirates 24|7 on Google News.