Woods to launch new campaign in Abu Dhabi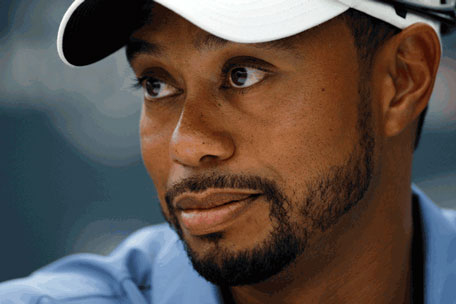 Tiger Woods chasing Jack Nicklaus, World No. 1 Luke Donald seeking his first Major title and Rory McIlroy eyeing an encore to his first Major triumph are golf's top storylines as the 2012 season begins.

Woods, a 14-time Major champion, snapped a two-year win drought last month, sinking a 10-foot birdie putt on the last hole to defeat 2007 Masters winner Zach Johnson by a stroke at the World Challenge, an 18-man charity event.

The first victory by Woods since the 2009 Australian Masters, and since the eruption of his infamous sex scandal, signalled a return to form after only 21 starts in the past two injury-plagued seasons.

"If I have a good year I should be on the ballot for comeback Player of the Year," Woods said.

If Woods can recapture the form that has brought him 98 worldwide triumphs, he might just be the 2012 Player of the Year.

"He's driven, he's healthy and you can tell he's hungry," Johnson said.

Woods, who will open his 2012 campaign at the Abu Dhabi HSBC Championship later this month, turned 36 last week still needing five Major triumphs to break the all-time record 18 won by Nicklaus.

"It's one of the things that drives me - 18 is the benchmark in our sport," Woods said. "I've had a pretty good run. It takes time. I still have plenty of time."

Only Sam Snead and Ben Hogan have won five Majors after age 35. Snead won five of his seven Majors after turning 36 while Hogan took six of his nine at 36 or older.

Even Nicklaus only took four beyond 35. And Spanish legend Seve Ballesteros only won five in his entire career.

With 71 career PGA titles, Woods remains two shy of Nicklaus for second and 11 adrift of Snead's US PGA record. But he has not won a US PGA event since the 2009 BMW Championship and has not won a major title since the 2008 US Open.

His best US tour showings since 2009 were shares of fourth at the past two Masters. While Woods has won four times at Augusta National, and nearly one in four Masters winners have donned the green jacket at 36 or older, only Hogan, Gary Player and Jimmy Demaret have won at Augusta more than once over age 35.

After contending in a lesser PGA event last October, Woods placed third at the Australian Open and helped the Americans retain the Presidents Cup at Melbourne, then snapped his win drought and showed he was a threat once again.

"It's great for the game to see Tiger playing better again," Donald said. "I think it's only a matter of time. He was always going to come back and I'm sure he'll come back very strongly. It's nice to see him playing better."

Donald became the first player to win the US and European money titles in the same year, capturing the PGA Player of the Year award and serving notice that the Englishman's long-sought first Major victory could be near.

"There will always be a little bit of an asterisk against my name until I win one, but I'll be trying very hard to correct that," Donald said.

"It's always something I'm searching for, to try and be as prepared as I can. I suppose there's a little bit more pressure, more expectation in majors, and I need to learn to better handle that."

Donald has come away empty in 34 Major starts but shared fourth at the 2011 Masters and eighth at last year's PGA Championship.

McIlroy squandered a lead at last year's Masters with a horrid final round back nine but bounced back to win his first major at the US Open two months later. Big expectations for the Northern Irish prodigy now include a run at Donald's top ranking.

"It would be great if I was able to do it," McIlroy said. "I have to play very, very well. If Luke keeps up his current form, you would have to do something spectacular."

Spectacular feats could be coming next September at the Ryder Cup at Medinah as the US hosts, losers in four of their past five meetings with Europe, try to wrest the trophy from Europe, winners in two of the past four Cups on US soil.

Americans had dropped six Majors in a row until US rookie Keegan Bradley won the PGA Championship last August, serving notice that a host of new young US players was ready to make a run at glory.

"I think certainly in the next 18 months we will see a push from those young guys in the States." England's Ian Poulter said.


Follow Emirates 24|7 on Google News.