Hamilton relishes friendly fight with Vettel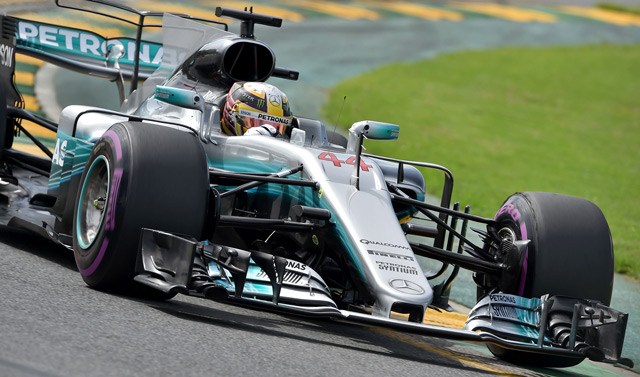 Lewis Hamilton goes into this weekend's Bahrain Grand Prix determined to build momentum in his bid for a fourth world title and to keep his battle with Sebastian Vettel as friendly as possible.
After three highly competitive and often acrimonious years competing with now retired 2016 champion and former Mercedes team-mate Nico Rosberg, the Englishman is relishing a different kind of challenge this year.
Instead of fighting his Mercedes partner, newly-recruited Valtteri Bottas, he is in a scrap for glory with four-time champion Vettel of Ferrari.
"We are working so hard and so are Ferrari," said Hamilton, fresh from his victory in China last weekend.
"I am expecting a very tough weekend in Bahrain where they are likely to be even stronger than in China because their car works, in general, better in hot conditions than cold.
"We made the most of our chance last weekend and we have to work hard to try and stay in front this time."
Vettel has been just as generous as Hamilton in heaping praise on his rival and the pair have so far served up one win each amid much mutual back-slapping and respect.
"You have to take any advantage you can get," said Hamilton, ahead of this Sunday's floodlit night race at the Sakhir International Circuit where he will be seeking his third win at the track in four years, following Rosberg's triumph last year.
"That is why we are doing so much now, working so hard. It is so important early on, as I learned last year. Hopefully, it will pay dividends at the end. I really have to try and make sure I finish ahead again in the next race."
Hamilton is seeking also to score another pole position to extend his run to seven in succession.
"I have six in a row and Ayrton Senna had eight in a row -- and I want to catch Senna. That's even more of a challenge."
The high temperatures expected at the Bahrain track are sure to play a major part in the outcome as this year's new formula of heavier, fatter and faster cars create new levels of wear on the broader tyres.
"I enjoy that fact that we are racing together in these cars," added Hamilton, of his battle with Vettel, who won the season opening race in Melbourne in March.
"I think right now we are a good match and the sportsmanship is amazing. When I win he enjoys it and when I lose it is the same as I can acknowledge it too. We are both giving respect and that is a great place to be."
The two main championship contenders should be chased by their team-mates Bottas and Kimi Raikkonen with Red Bull, who improved their form in China, pushing hard as the third-fastest team.
Following his astonishing drive from 16th on the grid to finish third in a rain-affected race, Max Verstappen will be hoping to stay ahead of team-mate Australian Daniel Ricciardo.
Behind them, much attention will focus on the form and future of two-time champion and three-time Bahrain winner Fernando Alonso of McLaren who will miss the Monaco Grand Prix next month to take part in the Indianapolis 500.
Follow Emirates 24|7 on Google News.