India doubles player salaries, hikes match fees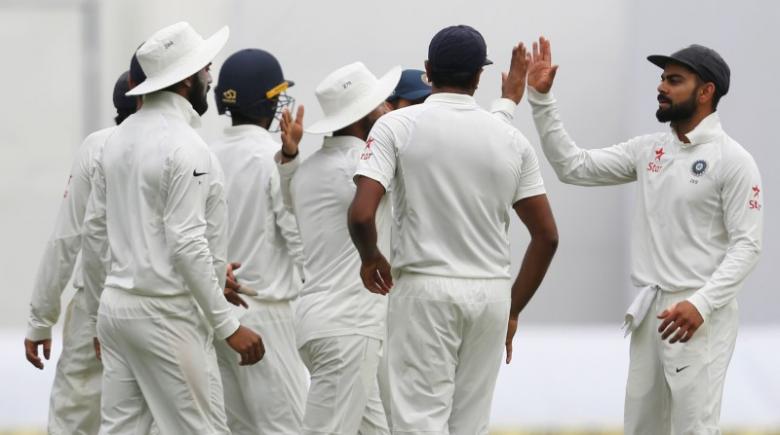 India's cricket team have been given a significant pay rise, with the world's richest cricket board (BCCI) announcing on Wednesday that it had doubled salaries for the 2016-17 season and hiked match fees across all three of the game's formats.
Players in the uppermost 'A' category have been put on a retainer of 20 million Indian rupees ($305,000) for the period ending Sept. 20, 2017, up from 10 million rupees last season.
That is still well short of the 700,000 pounds ($870,800) retainers that England's top cricketers, such as Alastair Cook or Joe Root are on, according to media reports, or the A$1.12 million dollars ($858,816) for Australia captain Steve Smith.
Top Indian cricketers also receive a match fee for each international appearance, and many benefit from playing in the lucrative Indian Premier League (IPL).
The BCCI said it had seven players on Grade A contracts, up from four last season, with Cheteshwar Pujara, Ravindra Jadeja and Murali Vijay joining captain Virat Kohli, former skipper MS Dhoni, off-spinner Ravichandran Ashwin and batsman Ajinkya Rahane.
Indian players on Grade B contracts, such as batsman Rohit Sharma and pace bowlers Mohammed Shami, Ishant Sharma and Umesh Yadav will earn 10 million rupees each and Grade C players will earn 5 million rupees apiece.
Notable exceptions from the list of players awarded contracts include off-spinner Harbhajan Singh and left-handed batsman Suresh Raina.
Players also top up their income in the IPL Twenty20 competition, with the country's media reporting that skipper Kohli, who captains Royal Challengers Bangalore, earned 15 million rupees from the league last year.
England all-rounder Ben Stokes was bought for a staggering $2.17 million by Rising Pune Supergiants ahead of this season's IPL.
The BCCI also increased match fees for the national team, with players now earning 1.5 million rupees per test match, or three times as much as they did last season.
Match fees for both one-day internationals and Twenty20 internationals have been doubled, to 600,000 rupees and 300,000 rupees, respectively.
The changes have been backdated to Oct. 1, 2016, the BCCI said.
Follow Emirates 24|7 on Google News.