Messi takes his seat in pantheon of greats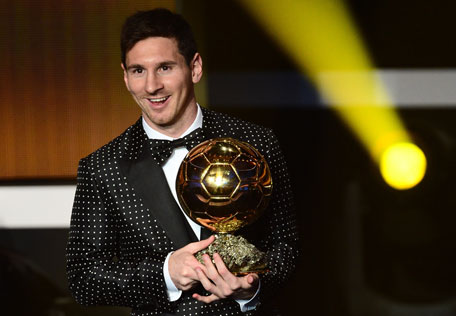 Lionel Messi's record fourth consecutive Ballon d'Or win Monday was as expected as it was justified after an incredible year saw him break German legend Gerd Mueller's 40-year-old record for the most goals in a calendar year.

And yet despite this latest accolade the 25-year-old from Rosario, who ended 2012 with an astonishing 91 goals in all competitions, indicated even before picking up the trophy that his own summary of the year was 'must do better' after Barcelona allowed Real Madrid to win La Liga and also missed out in Europe.

"I don't think it was my best year as I always say that titles you win with the team are more important," said Messi, noting Barca merely netted the Spanish Cup in 2012.

"The Spanish league, Spanish Cup or Champions League is more important than any personal records," Messi also stressed and with Barca and himself setting their individual and collective sights stratospherically high - yet so often reaching their goals - last year was something of a disappointment.

Messi is aware that only his failure to date to lift top honours with Argentina stops the footballing fraternity acknowledging him as the greatest footballer ever - though a fifth individual accolade in 12 months time, which former Barca great Johan Cruyff sees as almost a formality, would surely vault him above even Pele.

Messi himself admits an outstanding ambition is World Cup glory - in Pele's homeland in 18 months time - but his form in an Argentina shirt has not always quite reached the effervescent heights he touches dressed in Barcelona's 'blaugrana.'

"I still have this dream and that is to be a world champion and lift the Copa America with the national side," said Messi recently.

"And I know I'll do it, I'm convinced I will."

If the historical comparison with Pele and Diego Maradona remains academic in the eyes of many fans, nobody can argue today that Messi is the best in the contemporary game.

His dribbling skills and inventiveness may also be the preserve of fellow finalist Andres Iniesta while the finishing of third finalist Cristiano Ronaldo is almost on a par with that of the Argentine.

But Messi's ability to combine metronomic goalscoring with all-round creativity gives him the edge, while he can also point to three Champions League winners' medals to Ronaldo's one from the latter's Old Trafford days.

Messi has also won the Fifa Club World Cup twice and is Barca's leading scorer with 283 goals in all competitions even before his career reaches the half-way mark.

Only Michel Platini had previously won the Ballon d'Or accolade for three years running but Messi surpassed the Frenchman as well as Cruyff and another Dutch superstar Marco van Basten, both three-time winners.

"Messi will be the player to win the most Ballons d'Or in history," Cruyff recently predicted.

"He will win five, six, seven. He is incomparable. He's in a different league."

Away from the sport, Messi cuts a far more bashful figure than his great rival Ronaldo, but that has not prevented him from amassing a huge personal fortune through several lucrative endorsements, notably with Adidas.

He was named one of Time magazine's people of 2011 and is also a UNICEF goodwill ambassador, but it is through his dazzling dribbling, his carefully weighted passing and his artful finishing that he has earned his global fame.

Typically deployed in a roving forward role, he roams the pitch with seemingly boyish abandon and few things hush a stadium more quickly than the sight of Messi embarking on one of his gambolling runs towards goal.

"There are no words left to describe him - he is interplanetary," said Real Zaragoza coach Jose Aurelio Gay in March 2010.

"We could have beaten Barcelona but we could never have beaten Leo Messi. If we had scored four, he would have scored 12."


Follow Emirates 24|7 on Google News.