Three-goal Kagawa leaves Ferguson purring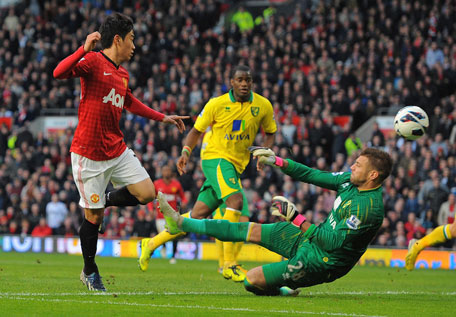 Manchester United manager Alex Ferguson is relishing next week's visit of Real Madrid but is also looking forward to next season and the impact that Shinji Kagawa can have on his team.

The Japanese midfielder scored a hat-trick in United's 4-0 victory over Norwich City, a result that opened up a 15-point gap over Manchester City at the top of the Premier League.

It also made the 23-year-old the first Asian player to score a hat-trick in the history of the English top flight.

Kagawa had previously scored just two league goals for United since his £12 million ($18 million, 13.9 million euros) close-season move from Borussia Dortmund.

But the manner in which he claimed his goals against Norwich is further evidence to support Ferguson's claim that Kagawa will need a season in English football before he starts to fulfil his true potential.

"He's a good finisher," said Ferguson. "His second and third goals were terrific.

"He showed great intelligence for the second one, great composure, and the third was really well executed.

"He's gradually getting his form back because he missed a period of football when he was injured in October and November and it set him back a little bit.

"I think we will see a great player next year; a far, far better player."

Ferguson also conceded that it was the decision to move Kagawa from the wing to a more central midfield role that proved the difference between a narrow United victory and an extremely comfortable one.

"He made a difference for us and he ended up getting a hat-trick" said the manager. "It's been a great day for him, all in all."

Kagawa, speaking through an interpreter, admitted that, like most football fans in Europe, his supporters in Japan will be more interested in events on Tuesday, when United host Madrid in the second leg of their Champions League last 16 tie, than this weekend.

"This will probably be huge news in Japan," said Kagawa of the reaction to his hat-trick.

"But in Japan, they are really looking forward to the Real game. So that's what I'm looking forward to as well.

"It will be a fantastic evening, of course, and I want to prepare and be in perfect condition to be able to help the team win.

"There are many things I have to do to help the team and that's what I'm trying to do."

Ferguson, who saw Wayne Rooney score the fourth and final goal for his team, could also take great satisfaction from the fact that the England international was able to turn in a 90-minute performance in readiness for Madrid's visit.

The Scot was also able to take off Robin van Persie with 25 minutes remaining, to rest him for the European tie, and the United manager reported no fresh injury concerns after the victory.

"That will do him, his confidence, good," said Ferguson of Rooney's goal.

"He has missed two or three games recently but he was back today (Saturday), worked hard and scored a goal. That's all we need.

"He needed a full game. He came on as sub last week at QPR but it's always important for strikers to score. It will help his confidence. He will be fine."

United's 15-point lead, with only 33 points available for City to collect, looks unassailable, but Ferguson is trying not to get carried away.

"We're in a better position than we were this morning because there is one game fewer left to play," said Ferguson. "There are only 10 games left now.

"But I think the most important thing is we are showing great spirit, no matter which team I pick."

Ferguson also confirmed that Ryan Giggs, who was not involved against Norwich, will feature against Madrid and will therefore make his 1,000th appearance in senior football.

"He will be involved on Tuesday," the Scot said. "We couldn't miss that moment for the lad. He deserves it."

Follow Emirates 24|7 on Google News.