Keep calm and carry on: Williams serene at Wimbledon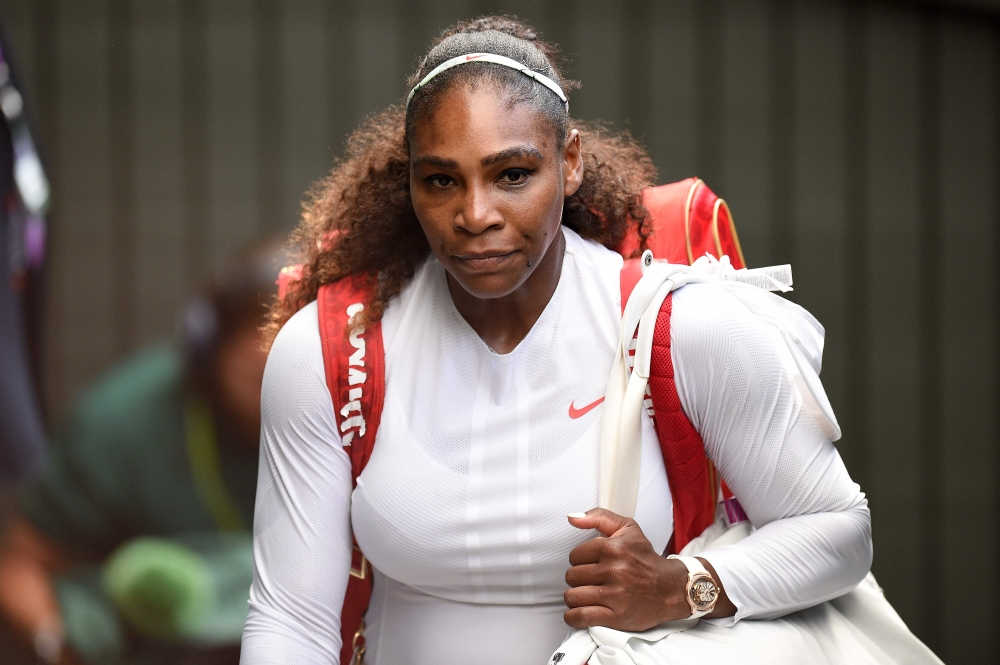 Serena Williams may be on the verge of making history at Wimbledon, but the stress-free former champion insists she doesn't feel under any pressure.
Williams reached her 35th Grand Slam semi-final with a gritty 3-6, 6-3, 6-4 quarter-final win over Camila Giorgi.
The American star faces German 13th seed Julia Goerges on Thursday hoping to book a 10th final appearance at the All England Club.
Williams, a seven-time Wimbledon winner, was outwardly full of fire as she shrieked her way to victory against the unseeded Italian.
But beneath the surface, the 36-year-old insisted she is feeling unusually calm as she enters the business end of the tournament.
"It's weird. Sometimes I feel, 'Man, I'm in trouble'. Sometimes I feel I can fight. For whatever reason, I was so calm," Williams said of her emotions as she battled back against Giorgi.
"It was just the way I felt. I never felt it was out of my hands. It's weird. I can't describe it.
"I just felt calm. I'm hoping I can channel that all the time, but one day at a time.
"I'm hoping this is like a new thing. Honestly, I highly doubt it!"
Serena hasn't won a Grand Slam since the birth of daughter Olympia in September and her last trophy came at the 2017 Australian Open.
Having shaken off the rust following her lengthy lay-off after the complications with Olympia's birth, Serena is on the verge of a 30th Grand Slam final berth.
She is aiming to win a 24th major title, which would move her level with record holder Margaret Court on the all-time list of women's singles champions.
"You're only as good as your last win. It's been a while since I've won a championship," Williams said.
"Everything right now is a little bit of a surprise, to be here, to be in the semi-finals," she said.
"I always say I plan on it. But when it actually happens, it still is, like, Wow, this is really happening."
Upset chance
Having won the title in the previous two years she played Wimbledon in 2015 and 2016, Williams, who missed last year's tournament due to her pregnancy, has extended her winning streak at the All England Club to 19 matches.
In contrast, Goerges is in the Wimbledon semi-finals for the first time.
The 29-year-old had suffered five successive opening round defeats at the All England Club before this year.
It also took her until her 42nd Grand Slam appearance to finally get through to the last four at a major.
Yet Goerges insists she can cause an massive upset against Williams.
"It is a great opportunity to play Serena here where she has won so many times and is a great champion. I think everyone here has a great chance so you have to take it," Goerges said.
Angelique Kerber, the German 11th seed, faces former French Open champion Jelena Ostapenko in the other semi-final.
Ostapenko struggled with the pressure of defending her maiden Grand Slam title, losing in the first round of the recent French Open.
But that lifted a weight off her shoulders at the All England Club, where she has become the first Latvian to make a Wimbledon semi-final.
The 21-year-old is the only female player yet to drop a set in this year's tournament.
"At the French Open a couple weeks ago I had so much pressure. It's now all gone," Ostapenko said.
"I'm just enjoying the moment. It's so much fun."
However, Kerber, beaten by Serena in the 2016 Wimbledon final, doesn't believe Ostapenko will be able to play completely free of anxiety with the title match within touching distance.
Kerber, the 2016 Australian and US Open champion, said: "I mean, the pressure is not always on my side. She (Ostapenko) won a Grand Slam, as well."
Follow Emirates 24|7 on Google News.