Khalid Al Qassimi finishes 6th fastest on stage 7 at Dakar Rally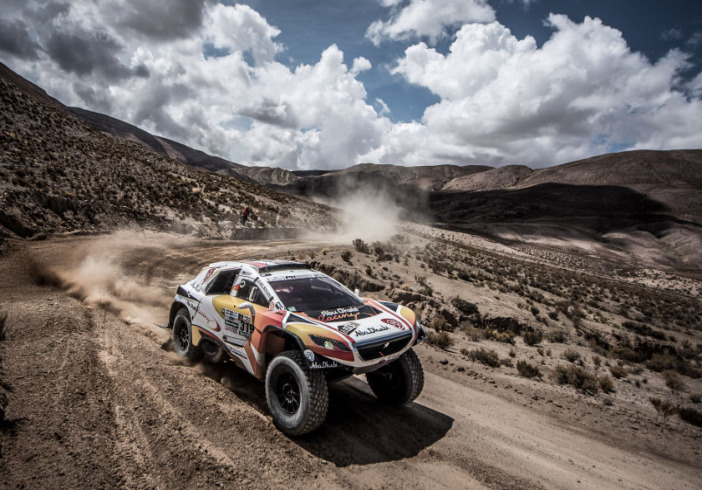 Following a much-needed two days' rest, Abu Dhabi Racing boss and driver Sheikh Khalid bin Faisal Al Qassimi demonstrated why he is one of the best drivers in the dunes when he finished 6th fastest on the modified Stage 7 from La Paz to Uyuni in Bolivia over a distance of 801km, of which 161km were competitive, at the 2017 edition of the Dakar Rally.
Behind the wheel of his Peugeot 2008 DKR, Sheikh Khalid maintained his 13th overall position in the classifications going into the next day, with the endurance now past the mid-way stage.
Following the cancellation of Stage 6 on the eve of the rest day, persistent bad weather conditions forced the race directors to change the course of Stage 7 from La Paz to Uyuni. A new course was designed and a new road book was drafted during the rest day.
The new course was an unprecedented combination of the original routes of Stages 6 and 7. The day's 161km special mainly took place on sandy terrain, sandwiched between a 400km link section and another one 240km long.
Sheikh Khalid was virtually on home territory, tackling the sandy and small dunes with skills acquired in Abu Dhabi's Liwa Desert. Like from day one, this was yet another tough day for the Abu Dhabi Racing driver over a shortened stage where he went a little wayward at times but always managed to get back on track without losing any time.
Sheikh Khalid Al Qassimi said: "It was another tough day. But I am happy with the result going sixth fastest. We had good pace and balance right through the modified route.
"Towards the end of the stage I saw some cars ahead and decided to up the pace just as we were nearing the finish in gravel conditions; as a result I managed to set some good times.
"The only hic-cup was that the deflator malfunctioned and I hope to get it fixed, because the next stage is going to be another marathon run in sandy conditions where we will need to use the deflator.
"If we are unable to fix this issue then Stage 8 is going to be very difficult to tackle, especially the Peugeot 2008 DKR is a rear-wheel drive car. But I'm now looking forward to the stages ahead."
The eighth stage comprises of 815km, of which 416km will be competitive, from Uyuni in Bolivia to Salta in Argentina.
Follow Emirates 24|7 on Google News.