Klopp frustrated after Liverpool drop points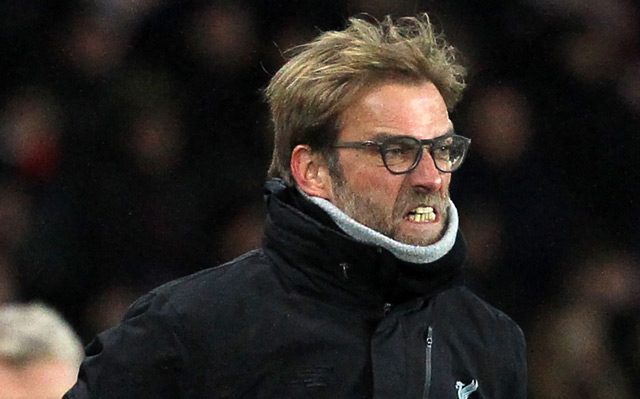 Jurgen Klopp, the manager who has brightened the Premier League with his quick wit and off-beat remarks, displayed his dark side after Liverpool dropped two precious points at Sunderland.
The 2-2 draw against a team struggling in the relegation zone was undoubtedly a setback for Liverpool because teams with title aspirations win at places like the Stadium of Light, as leaders Chelsea did just a fortnight ago.
But goals from Daniel Sturridge and Sadio Mane proved insufficient as Liverpool twice squandered leads by conceding two penalties, converted with his customary coolness by Jermain Defoe.
Klopp did not like what he witnessed and did not hide his emotions.
"Sorry about my mood," he said at the end of his assessment of Monday's draw, which left Liverpool second, five points behind leaders Chelsea.
While criticism of referees is normally the first port of call for managers seeking excuses for disappointing results such as this, Klopp has rarely taken that easy route.
This time though he blamed Anthony Taylor for awarding the free-kick that was handled by Mane to give Sunderland their second penalty and he confronted the referee on the pitch afterwards.
"It is hard to accept. If you see it again, there was no contact," the normally affable German said. "I saw it in the game and the fourth official saw it.
"It's not the worst mistake in the world and I don't want to say it is, but it's hard."
Such comments are unlike Klopp and suggest he may be feeling some of the pressure involved in chasing a team with Chelsea's recent impeccable record.
A more valid excuse would have been the fixture list that left Liverpool facing three games in seven days while Chelsea's three come in the space of 10 days.
However, Klopp said: "I am the wrong person to ask. I have absolutely no influence on the fixtures. It is like it is and somebody decided like this, so there is nothing to say about this."
Point pleases Moyes
Liverpool did not look weary for the opening 25 minutes as they took the lead and could have added further goals before the first equaliser.
But Klopp's team appeared off the pace after the interval and failed to hang on to the lead given to them by Mane.
The manager said: "I thought we started really well and then we lost concentration, which is not usual for us, but has happened before.
"It could be because of the fixtures, I'm not sure. Usually I would say we could have done better, but I am not sure if we could have done better.
"I don't know exactly if we could have done better because I was not in the shooting boots."
The mood of Sunderland manager David Moyes was very different, although this point did not lift them out of the bottom three.
"I honestly thought the players raised the supporters by the way they got up to Liverpool, how they put them under pressure, how they pressed them," said Moyes.
"Maybe if I was a German manager, you might praise that. If I'd been German you might praise me for doing something different.
"I thought we did well. We stuck at it as much as we could and tried to make it hard for them."
Follow Emirates 24|7 on Google News.