Kohli challenges individuals in Indian team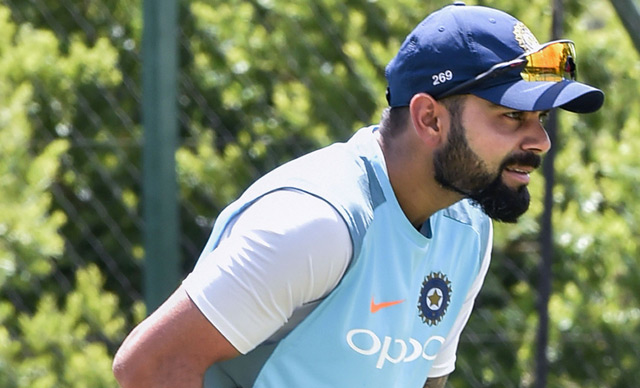 Captain Virat Kohli revealed on Tuesday there has been some hard talking in the India camp ahead of the third and final Test against South Africa, starting at the Wanderers Stadium on Wednesday.
He said his call after defeat in the second Test at Centurion to "be hard on ourselves" had been followed through.
"Everyone has been spoken to individually as to what went wrong, what happened and why it happened," Kohli said.
"The guys have taken it well. Any time that you step on to the field, it is an opportunity to correct your mistakes and that is how you progress at the international level."
He said batting coach Sanjay Bangar had worked with all the batsmen with a view to salvaging something from a series in which India are facing the possibility of a 3-0 defeat.
"I am sure everyone is looking forward to rectifying those mistakes and, if they are in the same positions (again), to consolidate those positions," said Kohli.
The Indian captain added: "We have looked at the positives from the first two games as well. It is not many times on overseas tours that we have taken 40 wickets in two Tests.
"If the bowlers can continue doing their job, whichever team bats better can win the Test match. It's a chance for everyone to step up and turn things around."
Both captains said there was a possibility they could go into the match with all-seam attacks on a green, well-grassed pitch.
'Amazing stat'
Remarkably, at a Wanderers ground which usually favours fast bowlers, South Africa have yet to beat India in four Test matches.
South African captain Faf du Plessis admitted that was "an amazing stat".
He acknowledged that teams get a boost from playing where they or their predecessors have enjoyed success.
"You get some grounds where you get a bit of confidence with the way that you play and you run with it," he said.
"I can think of a place like Perth in Australia, where we have never lost, and we get to the ground and we feel, 'we are confident here, we can perform here'."
But he said the South Africans were determined to complete a 3-0 series sweep.
"What you can do is keep them under pressure. They are obviously under pressure now, being 2-0 down in the series.
"A good start with the bat or with the ball is when you can put a team down. If you can be really solid, you would think their fighting spirit will slowly go away."
Du Plessis said a key factor, as in the first two Tests, would be batting partnerships.
"I think the difference between us and India is that more batters have contributed to partnerships than them. For me, it's making sure we keep the pressure on their batsmen.
"It's been a pretty quiet series for most of them. If we keep doing that we will change that (Wanderers) stat."
Du Plessis admitted that the Indian Premier League auction this weekend could be a distraction.
"The IPL plays a big part in all of our lives. For the management and myself it's important to keep the focus and the energy driving towards the Test match.
"At the end of the day's play, if you want to talk about the auction for a bit, you can do it. But the next day when it's Test match time again we must be switched on and focused."
Follow Emirates 24|7 on Google News.