Kohli says Aussie friends comment overblown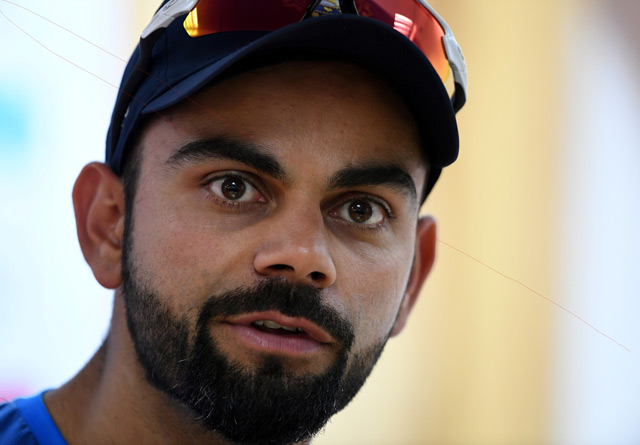 India skipper Virat Kohli on Thursday downplayed controversial remarks about ditching Australian cricketers as friends, saying his comments were blown out of proportion and he remained on good terms with some players.
Kohli, who captained India to victory in the emotionally-charged four-Test series, told reporters after the decisive Dharamasala match that he would never consider Australian players as friends again.
Australian media labelled Kohli's remarks "classless" in the wake of a series marked by controversies that India claimed 2-1.
But the Indian skipper sought to clear the air Thursday as he prepares to share a dressing room with Australian players in the Indian Premier League (IPL) Twenty20 tournament.
"My answer at the post match conference has been blown way out of proportion," Kohli posted on his official Twitter account.
"I did not categorically say the whole Australian team but only a couple of individuals.
"I continue to be in good terms with the few guys I know & who I've played with at RCB (Royal Challengers Bangalore) & that doesn't change."
Kohli led RCB to the final last year with Australian players Mitchell Starc, Shane Watson and Travis Head.
While Starc will not join RCB for the upcoming season starting April 5, Watson and Head will play side by side with Kohli in the Indian club.
The hotly-anticipated Test series was overshadowed by bitter exchanges, most notably when Kohli all but accused his counterpart Steve Smith of cheating after the Australian skipper looked to his dressing room while deciding whether to review an lbw dismissal in the second Test.
Done and dusted
Rules forbid players from consulting with anyone off the pitch about whether to seek a review from the umpires.
A war of words ensued and the cricket boards of India and Australia intervened but even a clear-the-air meeting between the skippers failed to smooth things over.
Smith sidestepped the spat Thursday as he concentrated on his upcoming captaincy of IPL side Rising Pune Supergiant.
"Look, the series is done and dusted, it's time to move on," Smith told reporters.
"I spoke after the game that India outplayed us and won the series 2-1."
Smith's IPL teammate Ajinkya Rahane, who stood in as captain for the injured Kohli in the deciding Test this week, also called for the hatchet to be buried.
"What happens on the ground stays on it. Our focus is on IPL," said Rahane.
As the bitter series wrapped up, Smith revealed that an invitation extended to India for reconciliation drinks was rebuffed, but Rahane said there was no issue.
"We had our own get-together in our own dressing room so I was actually busy there. We were enjoying each other's company after a well-fought series," he said.
Follow Emirates 24|7 on Google News.