Lewis Hamilton gears up for Vettel title fight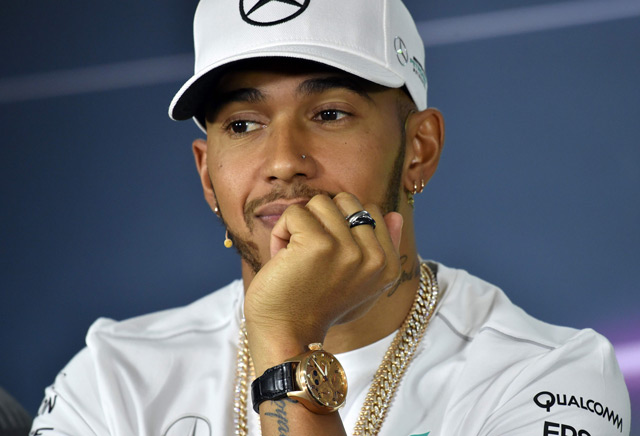 Lewis Hamilton said Thursday he wanted a season-long world title joust with Sebastian Vettel and declared Ferrari as the team to beat in this weekend's Australian Formula One Grand Prix.
Three-time world champion Hamilton said he would love a close battle with Vettel, who strung together four world titles with Red Bull before switching to Ferrari.
While Mercedes have dominated the last three seasons with Hamilton winning two titles and Nico Rosberg last year before his shock retirement, the Ferraris were quickest in pre-season testing.
Hamilton believes Ferrari are 'keeping a lid' on expectations but said he would savour a battle with Vettel for this year's world driver's championship in the new generation of quicker cars.
"I've not had a lot of battles with Sebastian on the track. Of course, I'd love to have that. I think the fans want to see that," Hamilton said.
"You want to be racing against the best. That's what the fans want to see.
"They want to see that close racing, that sheer competitiveness. See the ups and downs of the best doing the best. I hope there's lots of close racing."
Hamilton said Ferrari, who have not won a world constructors title since 2008, had the quickest car heading into Sunday's Melbourne season opener.
"I see Ferrari being the quickest at the moment. And I think they'll definitely be the favourites. But of course, we'll find out more on the weekend," he said.
"It's interesting to see, Sebastian is usually a lot more hype. I can tell he's trying to keep a lid on it. But their pace was obviously great in testing."
Hamilton said the new car regulations would spice up this year's world title race.
"Every year, your goal is to beat everyone. The more of a fight you have, the more satisfying it is when you're victorious. We're up for a challenge, and that's what I've prepared for," he said.
Vettel excited
"Doing drastic changes kind of spices it up. I've never seen fans so excited about a season as they are this season, being that it is we don't know where the cars and the teams are."
Vettel was cagier at the official media conference and said Mercedes and Hamilton were the obvious favourites for the season opener.
"I think it must be. Obviously Mercedes has been in a very, very strong form the last three years," the German said.
"Even with changes to the rules and regulations, if the team is strong then they will build a strong car the year after, no matter what they do.
"It is very clear who is the favourite. For all of us, we are obviously trying our best to catch up.
"How much we have succeeded we will see. As the season goes on obviously, I'm sure the cars will have big progression."
Vettel said pre-season testing lap times meant little heading into the first race of the new season.
"So far we don't know anything. So it will be exciting to find out where we all are on Saturday and Sunday to get a first impression," he said.
"Testing times doesn't matter much, I think it matters much more what you show from here onwards."
Hamilton played down the absence of his world champion former team-mate Rosberg.
"It doesn't make any difference to me whether the reigning champion is here or not. Every year it's a brand-new start, brand-new challenge and a brand-new championship to win," he said.
"You just want to beat whoever it is you're up against."
Follow Emirates 24|7 on Google News.