15-year-old pilot wins World Drone Prix in Dubai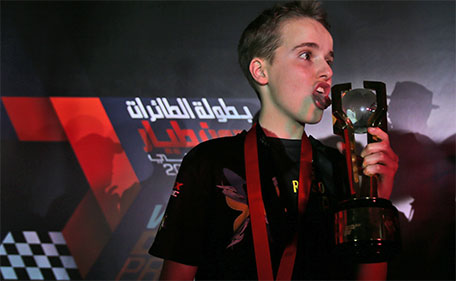 A team led by a 15-year-old pilot from England took first Saturday in the World Drone Prix, a new contest hoping to take flight both in this Mideast country fascinated by the technology and with sports fans worldwide.
Luke Bannister of Somerset led Tornado X-Blades Banni UK to win a $250,000 purse, part of $1 million in prizes handed out in the inaugural edition of this race as a Cabinet-level minister announced the start of the World Future Sports Games in December 2017.
Those contests next year will include robotic swimming, running, wrestling and car racing, as well as drone flying, as this city of futuristic skylines yearns to be ahead of the curve.
"We are trying to bring the future closer to us," said Mohammed Al Gergawi, the United Arab Emirates' minister for Cabinet affairs.
At the World Drone Prix, four pilots at a time sat in racing-style seats, their eyes covered by goggles allowing them to watch a feed from a camera on their drone.
The drones raced on a course behind them, zipping along a white track that occasionally reached up to pinch at the speeding aircraft for 12 laps with the skyscrapers of the Dubai Marina behind them.
The pilots wore the white racing jumpsuits familiar to Formula One, but racers have to worry about what's above and below them as they fly their drones, said Zachry Thayer, a 25-year-old pilot for Team Big Whoop of Fort Collins, Colorado.
But the onboard camera puts a racer into the action like nothing else, he said.
"That's what's making it explode," Thayer said.
"Anybody can go out and all of a sudden, they're Superman."
The crafts flown more resembled Erector Set creations, with one team using a cheap disposable lighter to solder a wire.
The races themselves looked at home in the science-fiction film 'Tron' - glowing fluorescent lights guiding the way around the 591-metre (650-yard) track.
Racers had to take at least one pit stop in the race, with crews leaning down to change out batteries.
Pilots also had to decide whether to take short cuts, sometimes seeing their drones crash into the ground or into each other to the shouts of spectators.
"Obviously, there's a crossover with gaming, as you can see with the HD goggles," said Nigel Tomlinson of Manchester, United Kingdom, who was the manager of Luke's team.
Those millions, as well as Dubai's single-minded determination to always be ahead, likely inspired authorities to announce the World Future Sports Games, tentatively scheduled for Dec. 28-30, 2017. Officials hope to hold the games once every two years after that.
On Saturday night at the World Drone Prix, the novelty of the competition seemed to hold the audience's attention as the drones buzzed around the track.
After winning, Tomlinson said the 43 team members of Luke's team would share the prize money.
Luke himself also seemed happy, rocking back and forth on his heels atop the winner's podium.
"The lights were awesome," he shyly said afterward, as his team cheered.
Follow Emirates 24|7 on Google News.