16 world records broken at Fazza Athletics - IPC Grand Prix Dubai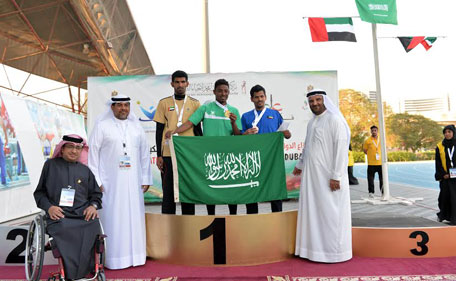 A total of 16 world records were broken at the 7th Fazza International Athletics Championships in Dubai, the opening round of the 2015 IPC Athletics Grand Prix.

Four world records were set on the final day of the Fazza International Athletics - IPC Grand Prix Dubai which concluded on Wednesday at the Dubai Police Officers Club.

Aisha Salem Bani Khaled of Khorfakkan club became the third Emirati to soar to new heights by throwing a distance of 11.24 metres (689 points) discus wheelchair women F33 category.

Great Britain's Joanna Butterfield won gold in the same event throwing a distance of 8.87 metres (1127 points) to set a new European and World record.

Her compatriot Maria Lyle set a new World record in the 200 metre women T35 category clocking 30.53 seconds.

UAE's Zenab Albraiki of Abu Dhabi Club for Special Needs set a new Asian record in the discus wheelchair women F32 throwing a distance of 8.76 metres and earning 551 points.

Regional athletes also had a field day with Syria's Mohamad Mohamad winning gold in the javelin wheelchair men final F57 in a world record distance 44.00 metres.

Saudi Arabia's Mohammed Sharaheli won the 200m men T20 final clocking 23.89 seconds from UAE's Ibrahim Abbas (26.44s) of Dubai Club for the Disabled and Kuwait's Saeed Alrashidi (26.91s.).

Algerians Lahouari Bahlaz and Kari Bettina dominated the shot put wheelchair men F32 event in which Kuwait's Mohammad Naser set a new Asian record of 7.20m.

Morocco's Sanae Benhama won the 200m women T13 final beating Janne Sophie Engeleiter of Germany.

The Fazza International Athletics - IPC Grand Prix Dubai was organised jointly by the Dubai Club for the Disabled and the Hamdan Bin Mohammed Heritage Center, under the patronage of Sheikh Hamdan bin Mohammed bin Rashid bin Saeed Al Maktoum, Crown Prince of Dubai and Chairman of the Dubai Sports Council.

The Fazza International Athletics - IPC Grand Prix Dubai is a qualification event for the IPC World Championships which will be held in Doha, Qatar this year and the Paralympic Games in Rio de Janeiro, Brazil in 2016.

The 2015 edition was an IPC Athletics Grand Prix competition with Dubai hosting only the third IPC Athletics Grand Prix after the inaugural edition was also held in the UAE last year.

It is the first of nine IPC Athletics Grand Prix this year, culminating in the IPC Athletics World Championships in Doha, Qatar in October.

"When we started these events at the beginning, even our level was so low. Now we have very high standards of our local athletes. Three world records were set by UAE athletes in this competition in a total of 16. The standard is so high that everybody would like to come to compete here to get records and qualify to World Championships and Paralympic Games in Rio de Janeiro," said Thani Juma Berregad, Chairman of the Dubai Club for the Disabled and Chairman of the Organising Committee for the Fazza International Athletics IPC Grand Prix in Dubai.

"I and my team are so happy for everything. For the high standards technically, for the high level in the organising and also the cooperative spirit between everybody. I thank everybody for participating," said Berregad.

A record number of 490 athletes from 48 countries competed in the season opening event with hosts UAE fielding nearly 150 participants drawn from several clubs around the country.

Para-athletes from Australia, Azerbaijan, Jordan, Bahrain, Algeria, Brazil, Denmark, Sweden, Iraq, Libya, Cameroon, Germany, Morocco, Mexico, Saudi Arabia, Japan, Greece, Uzbekistan , Iran, Ireland, Britain, Belgium, Bulgaria, Thailand, Turkey, Tunisia, Egypt, South Africa, Kuwait, Russia, Slovakia, Syria, Switzerland, France, Palestine, Finland, Qatar, Kyrgyzstan, Kazakhstan, Canada, Latvia, Lithuania, Malaysia, Mauritius, Nigeria, the Netherlands and India are vying for glory.

Both athletes and officials were overwhelmed by the high level of organisation and level of competition at Fazza International Athletics - IPC Grand Prix Dubai.

"I love Dubai. Really it's very motivating to be in such a beautiful place at such a beautiful venue like this," said Canada's Pamela Lejean who won silver medals in throwing events F53 category.

"I wanted to win all three events but I'm very hard on myself and I expected the best from myself," said Pamela who was excited after setting two Canadian records.

"Being involved in such a huge event, meeting so many people, while going in the bus hearing so many different languages at the same time was such a cool experience," said the 30-year-old from Nova Scotia.

Head coach of Global Wheelchair Athletics Ueli Albert brought three athletes from Canada to Dubai as a launch pad for the World Championships in Qatar.

"It was great competition especially for our throwers. We wanted to have some international competition. It's nice to get out of the snow in the winter. We are not peaking yet using it as part of our preparation going into Qatar. Also it was a good chance to see what the climate is here. I'm expecting it to be a lot hotter in October obviously," he said.

The 2015 IPC Athletics Grand Prix series continues with the next event taking place in Brisbane, Australia next month.

Meetings will then be held in Tunis, Tunisia; Beijing, China; Sao Paulo, Brazil; Mesa, USA; Nottwil, Switzerland; Grosseto, Italy and Berlin, Germany.

Dubai will also host the first ever IPC Athletics Asia-Oceania Championships between in March 2016.

"We are committed to invest in such sport. It is coming from our leadership. We are proud to be initiating lot of events. We will continue to do so and we have managed with IPC that Dubai will host Asia Oceania event next year. It's not difficult for Dubai to organise because we have lot of facilities," said Mohamed Ali Bin Fadel Al Hameli, Chairman of the UAE Paralympic Committee and IPC board member.

"UAE is investing lot on this (disabled sports) because they feel they should support this particular group. The UAE Paralympic Committee has big support from His Highness Sheikh Mohammed bin Zayed Al Nahyan, Crown Prince of Abu Dhabi who has designated fixed yearly budget on our activities which is around six million dirhams that we spend on our local tournaments and international participation. Being IPC board member, I'm very proud that such things is happening in UAE and Dubai particularly for this group. We are all committed to do our best for the sake of sport," said Al Hameli.

"It's the vision of His Highness Sheikh Hamdan bin Mohammed bin Rashid bin Saeed Al Maktoum when he started this competition who urged us to organise high level of competition and develop it every year and also give opportunity for our athletes to compete with elite athletes in order to qualify for this level," said Majid Abdullah Al Usaimi, Executive Director at the Dubai Club for the Disabled.

"I think we achieved one of our strategic goals but there is lot of things to do in future. We promise His Highness to continue with more efforts and work to make Dubai and Fazza competition one of the major events in the world," said Al Usaimi.
Follow Emirates 24|7 on Google News.