$300,000 Challenge Dubai Triathlon kicks off on Friday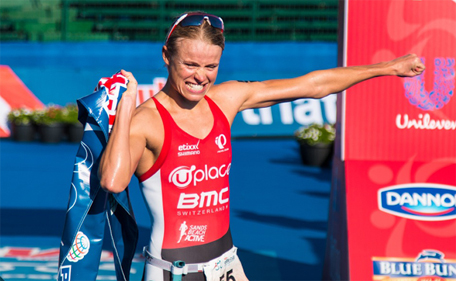 The Challenge Dubai Triathlon, first round of the Triple Crown Champinships, begins at dawn on Friday February 27.

Held under the patronage of Sheikh Hamdan bin Mohammed bin Rashid Al Maktoum, Crown Prince of Dubai and Chairman of the Dubai Sports Council, the Challenge Dubai Triathlon will be held in Oman (August) and Bahrain (December).

The tour, which extends to 113 km, includes three competitions: swimming, cycling and running, with $300,000 in prize money.

In line with the regional and global standing of Dubai city as a global destination for sports and recreation, especially at this time of the year, the number of athletes has reached more than 800, setting a record in triathlon events.

The participants include 110 professional athletes, led by Sheikh Nasser bin Hamad Al Khalifa, the son of the King of Bahrain, who is a strong advocate of this sport, which began to spread quickly in the region.

The event also features the participation of the title favourite Gomez of Spain who boasts of four titles in ITU Championship, along with the strong contender of Germany, Michael Raelert, the Ironman European Champion, and Helle Frederikson of Denmark, the London Olympics 2012 champion.

Participants gather in the Event Village near Jumeirah Beach Park at 04:45 am before the swimming contest starts at 06:30 am, followed by cycling and then running.

The first three athletes are expected to finish the race at 11:30 and the award presentation ceremony will be held at 06:30 pm.

The swimming contest kick starts in batches from the area neighboring Jumeirah Beach Park at where the last batch will start at 08:00 am at a distance of 1.9 km before returning to the starting point.

Then the cycling contest (90 km) will move in the direction of Meydan, pass through Al Safa Park and Nad Al Sheba before moving to Al Ain Road, turning right to Al Aweer Industrial, University City, and Technical College, then heading towards Warsan area, and finally returning to the starting point at Jumeirah Beach.

The third phase is the running competition for a distance of 21.1 km from the Transition Area in Jumeirah, passing through Jumeirah course towards Jumeirah Beach Hotel and back again to the starting point. Contestants are required to run this distance twice back and forth before the award presentation ceremony.

The Spanish champion Gomez is a top favourite as he boasts of great continental and international achievements highlighted by his four titles in ITU Championship, Triathlon Silver medal in London Olympic Games 2012, and 70.3 World Championship 2014 which he won two weeks later.

Germany's Michael Raelert is also a strong contender who was the Bahrain challenge champion, Ironman world champion 2009/2010, 70.3 Ironman European champions in the following year.

He found his best form after Bahrain Challenge 2014 and dominated races as evidenced by winning two 70.3 European titles and this year he has won Germany's 70.3 Championship in addition to his third title at Challenge Walchsee.

Among the top male athletes is Andreas of Germany, Tim Reed from Australia, James Cunnama from South Africa, Eneko Llanos of Spain, Massimo Cigana from Italy, Jan Frodeno from Germany, Terenzo Bozzone from New Zealand, Luke McKenzie from Australia, Andy Potts from USA, Pete Jacobs from Australia, Bart Aernouts from Belgium, Leon Griffin and Brad Kahlefeldt from Australia, Ritchie Nicholls from GB, Rasmus Petreaeus from Denmark, Paul Ambrose from Australia, and Till Schramm from Germany.

The women's field is led by Helle Frederikson, Champion of 2012 London Olympics, Challenge Bahrain, and 2014 Hy-Vee.

Participants also include competitors from Europe and America such as Jodie Swallow and Annabel Luxford from Great Britain, Melissa Haulschildt from Australia, Caroline Steffen from Switzerland, Camilla Pedersen from Denmark, Meredith Kessler from the USA, Daniela Ryf from Switzerland, Yvonne van Vlerken from Netherlands, Leanda Cave from Great Britain, Michelle Versterby from Denmark, Heather Wurtele from Canada, and AnjaBeranek & Eva Wutti from Germany.

The running contest feature the participation of the English athlete Rio from the special needs category in a bit to encourage companies and individuals to donate money to Rich Rio Charity Organisation in preparation for holding the Disabled Ceremony at Zaabeel Park on 21 March 2015.



Follow Emirates 24|7 on Google News.