Ajmal bowls 'doosra' at Pakistan selectors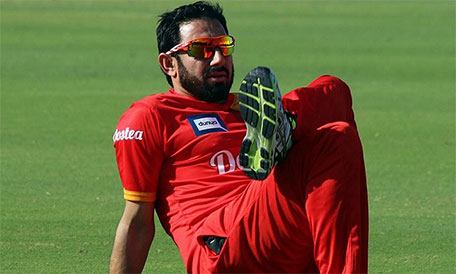 Spin wizard Saeed Ajmal is determined to regain his old magic and make an impact for Pakistan despite being left out in the cold for the Asia Cup T20 and World T20.
The 38-year-old last played for Pakistan in April 2015 after returning to competitive cricket with a remodelled bowling action.
But his performance in the Pakistan Super League (PSL) may win back the selectors' confidence.
Playing for Islamabad United, he has so far had a mixed campaign, picking up six wickets in five games with an economy rate of 7.36.
"Here in the PSL, in the first match, there was a bit of pressure, but my bowling was good. In the last match, whatever I desired, whatever ball I bowled, it happened. I am getting my confidence back and the variations I am trying are happening now."
He was banned from bowling by the International Cricket Council (ICC) in September 2014 for an 'illegal action'.
The off-spinner then underwent remedial work with former Pakistan great Saqlain Mushtaq and was cleared to bowl again in February 2015.
During the rehab period Ajmal said he bowled '12,000 deliveries' before regaining some confidence.
"I worked really hard. I bowled 12,000 deliveries during the rehab before coming back. From the time my action was called and till it was cleared, I have bowled at least 100 balls a day," Ajmal said in an interview with Cricinfo.
The 'new' Ajmal said Pakistan's recent losses in the international arena 'hurt' him and that he would be 'back' soon.
"I will be back, and that day is not far. I have spent a lot of time outside and it hurts me when Pakistan loses."
Ajmal also revealed that the 'fear of chucking' had almost pushed him into retirement.
"I had doubts, it was in my mind that I was chucking. It took me nearly a year after the ban to get rid of the fear," he said.
Ajmal confirmed that he still bowls the 'doosra' though it is not as effective as it was in the past.
"I have cleared the doosra during the ICC testing process. Even against Karachi Kings I got Saifullah Bangash with a doosra. I bowled a few to Iftikhar Ahmed. Out of 18 deliveries I bowled six doosras. I still rely on the doosra. I know it is a weapon that unnerves a batsman. With time my hand speed will get faster, as it was before. Then the doosra will become more effective," he said.
Ajmal last turned up in Pakistan colours in a Twenty20 match against Bangladesh in April 2015, finishing with figures of 3.2-25-0.
He also played two ODIs on the Bangladesh tour and had a similarly unimpressive return. His 19.1 overs in the two games cost 123 runs for a solitary wicket.
But the spin maestro said he is a different bowler from the man who turned up against Bangladesh last year.
"I am ready. There is a big difference from the time when I played in the Bangladesh series last year after I was cleared. At that point I had the fear on the inside. Now I have removed that fear by working hard.
"In the last six months I have played 100-plus club matches (back in Pakistan) where I was also hit for many sixes. I was starting to understand at what pace the batsman was hitting me. I played club tournaments, local tournaments, a few outside. Slowly my confidence was coming back. In my mind I started thinking, 'Now I am delivering my hand in the correct fashion.'"
Follow Emirates 24|7 on Google News.