Al Qubaisi aiming for hat-trick at Dunlop 24 Hours of Dubai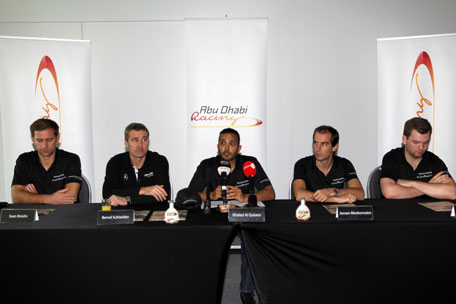 Khaled Al Qubaisi says he is ready for the biggest test of his motor racing career as Team Abu Dhabi by Black Falcon look to complete a hat-trick of victories in the Dunlop 24 Hours of Dubai this weekend.

Al Qubaisi shares the driving in the team's lead Mercedes AMG SLS GT3 with Germany's Bernd Schneider, Dutchman Jeroen Bleekemolen and Sweden's Andreas Simonsen,and the Emirati is under no illusions about the challenge they face at Dubai Autodrome.

The ninth edition of the classic endurance race has attracted a powerful entry of 80 teams and 400 drivers from more than 40 contries, and Al Qubaisi recognises that a succession of world-class challengers lie between Team Abu Dhabi by Black Falcon, which is supported by Abu Dhabi Racing, and a third successive triumph.

"Winning this race once is extremely difficult, defending your title is even tougher, and winning it for the third year in a row is a huge challenge," said the UAE driver, Managing Director of Abu Dhabi Racing, who was joined at Wednesday's team press conference by Schneider, Bleekemolen, Simonsen and team manager Sean Breslin.

"We're the team to beat. Everybody has come here to try and do that. It's very clear this time that we'll start as the outright favourites, and all eyes are on us."

Victory in last month's Gulf 12 Hours at Yas Marina Circuit, where Al Qubaisi shared the driving with Schneider and Bleekemolen, has increased the spotlight on Team Abu Dhabi by Black Falcon, while adding to Al Qubaisi's belief that they can win again in Dubai.

"It's not going be a walk in the park," he said. "There are at least six teams that can win it, all with great cars and great driver line-ups. At the same time, many things can go wrong in a race like this. Another car can take you out, or your chances can be ruined by mechanical problems or a puncture.But we feel confident, especially after winning the Gulf 12 Hours. And if there are no surprises, we stand a very good chance of retaining our title."

The team's determination to succeed is heightened by their commitment to honour the memory of Sean Edwards, the talented British driver who was part of their winning team in Dubai for the last two years, but died tragically in a track day accident in Australia in October.

Al Qubaisi, who went into the record books as the first Emirati to enjoy victory in the race as a team-mate of Edwards in 2012, said: "Sean had a lot to do with me being able to be part of that winning team, coaching me, giving me a lot of advice, preparing me physically and helping me with my diet.

"It's hard to accept that he's not with us any more, but the memory of Sean makes us even more determined to win this time," he said. "We want to win it for him."

Like Al Qubaisi, two-times Porsche Supercup champion Bleekemolen is going for his third successive victory in the Dunlop 24 Hours of Dubai.

Multiple German Touring Car (DTM) champion Schneider was a member of last year's winning team, while 2013 FIA GT Sprint Pro Am Champion Simonsen will be looking for his first victory with the team in Dubai.

Qubaisi and Bleekemolen will each have stints in the team's two cars at the weekend, also supporting he second AMG SLS GT3 alongside Saudi Arabia's Prince Abdulaziz Bin Turki AlFaisal, German Hubert Haupt and Britain's Adam Christodoulou.
Follow Emirates 24|7 on Google News.