Australian Cook out to create beach volleyball sandstorm in Dubai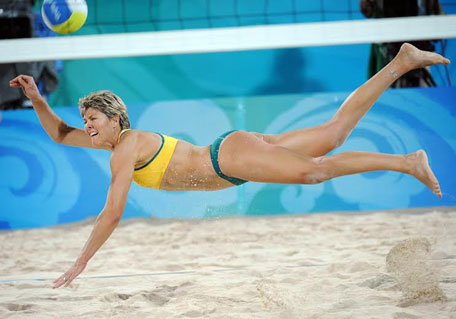 Australian Olympic gold medallist Natalie Cook aims to create a beach volleyball sandstorm in Dubai as she attempt to tackle obesity globally by promoting a healthy lifestyle.

Cook was flown into Dubai by Qantas as a special guest for the Australia Day celebrations in partnership with the Australian Business Council Dubai (ABCD) as part of G'DAY DUBAI.

The three-day festivities began with the 'G'DAY DUBAI Golf Day' at The Montgomerie Golf Club in Emirates Hills followed by an Aussie BBQ lunch.

This was followed by a fun packed 'Big Day Out' on Friday January 24 at the exclusive beach venue Zero Gravity.

It culminates with performances by former INXS frontman and rock sensation Jon Stevens and award winning Australian singer-songwriter Guy Sebastian.

"I played beach volleyball for 20 years and now I play litte bit of golf. I came with Qantas on their new A380 which is amazing that flew me over to participate in Australia Day celebrations here in Dubai," said Cook who is pleased to return to Dubai after five years.

"The aim of my visit is to excite Dubai about Australia, its cultural values and the way we celebrate Australia Day. In Australia it will be Sunday and here in Dubai it will be Saturday night. We are bringing the Australian spirit and festival to Dubai, part of that is promoting active, healthy lifestyle and being outdoors and playing sport," said in an interview with Emirates 24|7.

"We have similar issues in Australia with obesity and I have a real passion to reduce the problems of global obesity. For Dubai with my relationship with Qantas, coming into Dubai more often it is much easier for me to come into the UAE," said who owns a company called Sandstorm.

"I would love to create a sandstorm in Dubai. I hope to provide an opportunity or space where we can play beach volleyball with people. That is the vision," said Cook who considers it her lifetime mission.

"It is a big challenge. It is like changing your minds. Therefore it is a life mission but it gives a lot of satisfaction when I see children or paretns being active with their children, playing beach volleyball and seeing them change the way they think about sport and nutrition and health. That is the satisfaction. When I see families play together or kids come from behind their ipads and computers and come and play sport, that is very exciting for me," said Cook.

She also wants to encourage more women in the region to take up the sport by making them aware that the International Volleyball Federation has changed the rules regarding attire.

"The rules have to been changed to allow women to play in shirts and shorts or long pants. They can wear whatever dress they like to participate. For adults, no longer is it a rule to wear the bikini. So this is my mission. To let people know that the sport has changed its policy and they are encouraging more girls and women to play from a young age and they can wear any dress," she said when asked about her plans in Dubai.

She is focussing her attention in Dubai.

"This is where I'm spending my attention and focus because as a Qantas ambassador and their relation with Emirates (Airline), it is the easiest place for me to build relationships and have the support of spirit of Australia which is our Qantas brand," she added.
Follow Emirates 24|7 on Google News.