Australian XCAT race confirmed at Dubai press event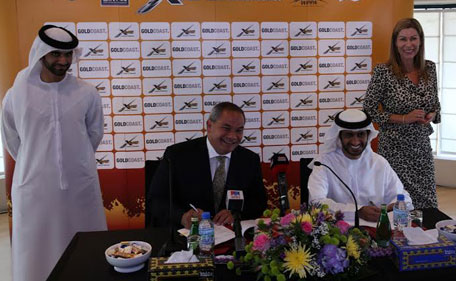 It's official. XCAT racing will take place in Australia in August.

That's after the final host agreement was signed by Dr Saif Al Ketbi (President of the WPPA) and the honourable Mayor of the City of Gold Coast, Tom Tate, in Dubai today ahead of the opening race of the UIM XCAT World Series in Fujairah this weekend.

The signing was witnessed by Sheikh Mansoor bin Mohammed bin Rashid Al Maktoum, DIMC Chairman, and the Queensland Trade Commissioner, HE Donna Massie, as well as WPPA Vice President, Dr Khalid Al Zahed.

The dignitaries attended a press event hosted at DIMC Mina Seyahi to mark the signing of the agreement which will see the fifth round of the Series held by Gold Coast City in August.

Speaking at the event, which further solidifies the partnering of Dubai and Gold Coast City as sister cities, Dr Saif Al Ketbi said: "It is wonderful to welcome our friends from Australia to Dubai once again and to put pen to paper on the hosting agreement for the race in August.

"We are so looking forward to introducing XCAT racing to another continent and particularly one with such strong ties to Dubai. Having spoken with the honourable mayor, I have no doubt the City of Gold Coast is going to put on a real show later this year."

The honourable mayor of Gold Coast City, Tom Tate, said the event will be hosted in August as not only does it provide an ideal climate, but an estimated 30,000 visitors from the Middle East flock to the 70km of beaches on the Gold Coast at that time of year, and can take in the spectacle along with the locals.

Speaking about the addition of two Australian teams to this year's UIM XCAT World Series, Tate said: "I think it will make the sport grow faster in Australia because we'll have drivers in the race. Australians are very competitive, so it wouldn't surprise me if they podium in some races – no pressure for them, but as long as they do their best I think the result will be there.

"Powerboating is relatively new for us. We're world class when it comes to sailing and that sort of sport.

"We've had offshore powerboat racing there and it's very popular but this is the first time we've had very fast boats inside the broadwater so it's very much more in touch with our population. It's almost like having those supercars going around in the streets but this will be around in our broadwater so people can hear it, they can see it and they can be part of the event."

Tate is looking forward to attending the opening round of the season in Fujairah from tomorrow until Friday.

"It's going to be wonderful to see. We're going to be unveiling our (Gold Coast-branded) boat there. Our people are very colourful sort of people so I hope that our boat will exude the exuberant attitude that we have. I'm looking forward to seeing how it runs in Fujairah and looking forward to the hospitality there," he said.

Tate is no stranger to local hospitality, having been taken skydiving on his last trip to Dubai by the Dubai Crown Prince himself, Sheikh Hamdan bin Mohammed Al Maktoum.

"We're both sports people and we love extreme sports and His Highness mentioned about skydiving and I said 'ok, let's do it' and then he said 'ok, we'll do it tomorrow morning' – so we did... It's one of those experiences that I'll always remember. I look forward to – should His Highness get to our city – going skydiving there too."

Meanwhile, back in the UAE, Official Practice will get underway in Fujairah on Wednesday, February 25, while the race for Pole Position takes place on Thursday morning at 10.30am and the thrilling head-to-head Dubai Duty Free Speed Cat Run at 3pm that afternoon.

The main event, the Fujairah GP, takes place at 3.30pm on Friday, February 27. Entry for the general public is free of charge.
Follow Emirates 24|7 on Google News.