Boxing champion Amir Khan in Dubai: Ready to fight Floyd Mayweather or Manny Pacquiao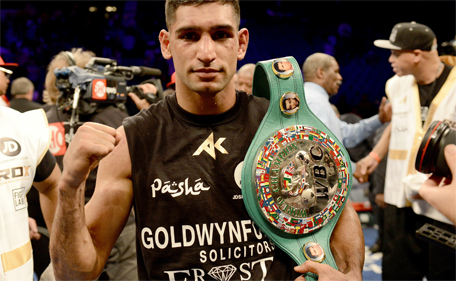 British boxer Amir 'King' Khan who has challenged unbeaten pound for pound welterweight Floyd Mayweather Jr has landed in Dubai to promote a possible showdown with Filipino ring icon Manny Pacquiao.

Talks are ongoing for the awaited mega fight between Pacquiao and Mayweather with date, venue and drug testing being agreed but until the deal is finalised it will be a non-event.

Khan who proved his pedigree by demolishing another unbeaten American Devon Alexander in December has stepped up the ante throwing the gauntlet at Mayweather.

"I want to fight in May and I want the Mayweather fight but it's not getting any closer," Khan told the Daily Mail.

Khan (30-3, 19KOs) has given Mayweather (47-0, 26KOs) a five-day deadline to get an answer on a possible May 2 clash although Mayweather thinks the British boxer is not a big enough name for a pay-per-view main event.

"I need to know this week because I need to start training," declared the Bolton fighter who is considering a possible fight with Pacquiao in Dubai as another option.

Pacquiao's coach Freddie Roach is endorsing a contest between the Filipino and his former stable mate Khan.

"Me, I like that match... I like how Khan is fighting, I like how his chin is holding up," Hall of Frame Trainer Roach has said in an interview with thesweetscience.com.

A Dubai boxing promoter has been in talks with Bob Arum of Top Rank to get Pacquiao fight in Dubai and was in Las Vegas when Khan outclassed Alexander.

'Prince' Amir Shafypour, Promoter and Managing Director at Golden Cage Promotions and Events, has been on the line with Pacquiao's manager Freddie Roach to make this a reality.

"We are confident of hosting a fight featuring Pacquiao with or without Mayweather," Prince Amir he told Emirates 24|7.

Pacquiao vs Khan in Dubai perfectly fits the bill since it would be followed by large community of Filipino and British expatriates in the Middle East.

Follow Emirates 24|7 on Google News.