Britain's Aled Davies breaks two world records at Fazza - IPC Grand Prix Dubai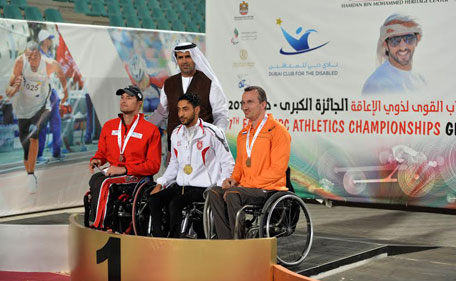 Great Britain's Paralympic, world and European champion Aled Davies has shattered two world records in the F42 discus and shot put at the 7th Fazza International Athletics Champonships in Dubai.

The 23-year-old produced a record-breaking performance on the second day of the IPC Athletics Grand Prix in Dubai in the shot put men by throwing a distance of 15.92 metres (1068 points) to create a new world and European record.

This followed his discus throw of 48.87m (1040 points) on Sunday at the Dubai Police Officers Club to add 18cm to the F42 world record mark he set in Grosseto, Italy, nine months ago.

The Fazza International Athletics - IPC Grand Prix Dubai is organised jointly by the Dubai Club for the Disabled and the Hamdan Bin Mohammed Heritage Center, under the patronage of His Highness Sheikh Hamdan bin Mohammed bin Rashid bin Saeed Al Maktoum, Crown Prince of Dubai and Chairman of the Dubai Sports Council.

"Aled's performance was a brilliant shock. He has done very well," said Katie Jones, coach of Great Britain.

British para-athletes are making their mark despite competing during the middle of winter training.

Hannah Cockroft won her second gold medal when she eased to victory in the 400m wheelchair women clocking 1:06.89 minutes.

Sophie Hahn (13.18 seconds) and Olivia Breen (13.73s) dominated the 100m women T38/46 final, Georgina Hermitage (14.22s) won the 100m women T37 event and Maria Lyle (14.92s) 100m women T35/36 final.

"February is not normally a time we compete in UK. We wait till April, May and June to start looking for big performances. For us it's still in winter. We just want to see how training is going with a good performance and then go back into training to prepare for Doha. They have done fantastically to do what they have done here," said Jones pleasantly surprised by their gold-medal performances.

The Fazza International Athletics - IPC Grand Prix Dubai will serve as a qualification event for the IPC World Championships which will be held in Doha, Qatar this year and the Paralympic Games in Rio de Janeiro, Brazil in 2016.

The 2015 edition is an IPC Athletics Grand Prix competition with Dubai hosting only the third IPC Athletics Grand Prix after the inaugural edition was also held in the UAE last year.

It is the first of nine IPC Athletics Grand Prix this year, culminating in the IPC Athletics World Championships in Doha, Qatar in October.

World records continued to be broken in Dubai with UAE's Ahmed Adil Mourad who won gold in the discus throw men F40 throwing a distance of 14.89 metres being one of 11 athletes who soared to new heights on the opening day.

"Dubai is able to host such an important event for disabled athletes thanks to the patronage of HH Sheikh Hamdan bin Rashid Al Maktoum, Crown Prince of Dubai. Today we are witnessing an international event giving an opportunity for our athletes to be competing in such a world class competition," said Mohamed Ali Bin Fadel Al Hameli, Chairman of the UAE Paralympic Association.

A record number of 490 athletes from 48 countries are competing in the season opening event with hosts UAE fielding nearly 150 participants drawn from several clubs around the country.

Para-athletes from Australia, Azerbaijan, Jordan, Bahrain, Algeria, Brazil, Denmark, Sweden, Iraq, Libya, Cameroon, Germany, Morocco, Mexico, Saudi Arabia, Japan, Greece, Uzbekistan , Iran, Ireland, Britain, Belgium, Bulgaria, Thailand, Turkey, Tunisia, Egypt, South Africa, Kuwait, Russia, Slovakia, Syria, Switzerland, France, Palestine, Finland, Qatar, Kyrgyzstan, Kazakhstan, Canada, Latvia, Lithuania, Malaysia, Mauritius, Nigeria, the Netherlands and India are vying for glory.

"One of the strategic goals when we started the first Fazza competition was to give opportunity to our athletes to perform and increase their chances to win medals not only in local events but also globally. The seventh edition has seen a big number of UAE athletes reach to a good level and qualify them to be participate in the World Championships and Paralympic Games. The record breaking feat is really reaping fruits of what we started recently," said Majid Abdullah Al Usaimi, Executive Director at the Dubai Club for the Disabled.

UAE star Mohamed Hammadi from Althiqah Club for Handicapped in Sharjah had to settle for second being beaten by Tunisia's world and Paralympic champion Walid Ktila who continued his domination in T34 events with wins in the 200m and 800m.

However, UAE won a gold medal in the shot put women F44/46 when Mariam Matroushi hurled a distance of 8.94 metres (609 points).

There were also two silver medals for UAE on day two.

Omair Younas of Dubai Club for Disabled in the discus wheelchair men F33-35 (24.24m) and Aishah Salem Bani Khaled in the javelin wheelchair women F33/34 (10.20m).

The competition will continue until February 25 at the Dubai Police Officers Club in Jadaf, Dubai starting at 3pm.

Athletes compete in distances from 100m, 200m, 400, 800m, 1500m and 5,000m on the track, and field events of shot put, discus, javelin, club throw and long jump.

Follow Emirates 24|7 on Google News.