Cozmo Travel launches inter-school football tournament in Sharjah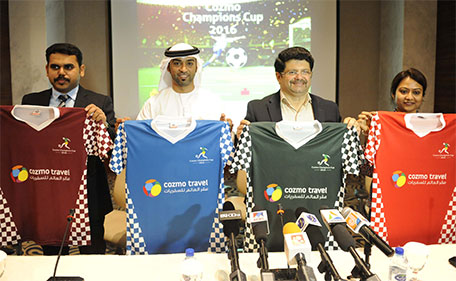 Cozmo Travel, a member of Air Arabia Group, announced the launch of 'Cozmo Champions Cup', an annual football championship for school students.
The tournament is organised in association with Sharjah Sports Council, National Olympic Committee and the UAE Sports for All Committee.
The inaugural edition of the Cozmo Champions Cup will feature teams from 16 schools taking part in the event on February 13 at the Wanderers Club in Sharjah.
The inter-school football tournament is aimed to pave the way for youth to promote physical activity, sporting talents and aptitudes, while fostering and building a healthier lifestyle at a shape-up phase in their lives.
Jamal Abdulnasar, CEO - Cozmo Travel, said: "We are extremely proud to launch 'Cozmo Champions Cup' for school students from across the Northern Emirates region. This is one among the CSR initiatives of Cozmo aimed at enhancing the overall development of our future generation by promoting sports as an integral part of a child's overall development. In future, we are also looking into conducting football matches for universities and corporate entities in the UAE."
Saeed Ali Mohammed Al Aajil, Director of Social Service at Sharjah Sports Council, said: "Sharjah Sports Council - Government of Sharjah has always encouraged sports activities to develop both physical and mental abilities of the youth. Our strategy is in line with the approach of the country's forward-thinking leaders, who stress on the importance of sports and extend constant support to sports enthusiasts. We hope this tournament will create new opportunities for students to experience football on a level where they practice leadership, commitment, fair play and teamwork."
Abdelrahman Bin Taliah, Managing Director of Cozmo Travel, said: "Corporate entities always aim towards sustainable social service, and this was exactly Cozmo's vision when putting together the 'Cozmo Champions Cup'. Football in the UAE gives young students opportunities not only to have fun, but to demonstrate their talents as well. Our aim is to have this event an ongoing social event bonding students, parents and schools together."
Deepa Rajesh, Head of Sales at Cozmo Travel, explained: "This is a one-day, seven-a-side format football tournament for school students. A total of 16 schools from Sharjah and Northern Emirates will participate in the tournament this year. This, being the initial phase of the tournament, the teams are set up with students from high school level."
Exciting prizes and certificates will be awarded to both the winning team and participants. Winners of the tournament will be awarded trophies and medals. Separate awards will be presented to top scorer, best player and best goal keeper.
Follow Emirates 24|7 on Google News.