Djokovic aims to equal Federer's record tally of five Dubai titles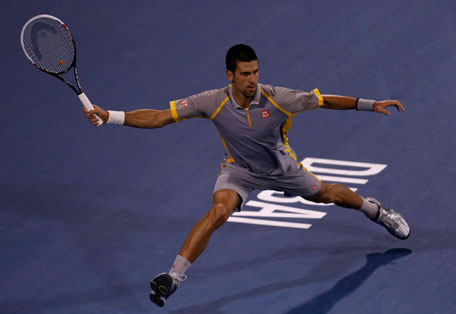 Novak Djokovic is accustomed to defending titles, but his bid to retain the Dubai Duty Free Tennis Championships crown will have a special edge to it.

The Serbian will not only be aiming to equal Roger Federer's record title tally of five in the ATP World Tour 500 Series Event in Dubai which begins on February 24, he will also be trying to accomplish a career-first and win a title for the fifth time.

He faces a spectacular field that includes not only Federer but 2013 semifinalist Juan Martin Del Potro, recent Australian Open semifinalist Tomas Berdych and the entertaining Jo-Wilfried Tsonga.

"The pressure is always there as a top player. I do feel there's always high expectations," said Djokovic, who won the title in 2009-11 as well as 2013.

"But it's all part of our sport. It's what we need to deal with. It's what we need to accept and, you know, try to use it in a positive way.

"By saying that, I mean that pressure is a privilege in a way, because it means you're doing something that is very valuable, that is, of course, very important. In my life I've always dreamed of being on this stage, competing at the highest level. So I try to look at the pressure on the brighter side, right? I really enjoy every moment spent on the court.

"Tennis is such a mental game in the end of the day. It's very dynamic. Everything happens fast. In one or two points you can lose a break and the match can turn around. That's why it's important to really stay within yourself and, you know, focus on what you can do."

"Novak Djokovic is not only one of the greatest players of all time, but also one of the most humble," said Colm McLoughlin, Executive Vice-Chairman of tournament owners and organisers Dubai Duty Free. "It is rare to see such a champion engage so readily not only with his fans, but his fellow players and even the ball-kids whom he sometimes invites to dance with him on the court after his match.

"It will be very interesting indeed to see how he deals with trying to achieve not just one, but two career milestones against a field of the very highest quality. We wish him well."

The 26-year old has always dealt with the pressure he faces with dignity, even when he suffers the most disappointing of defeats.

One recent example occurred in Melbourne when he surrendered his Australian Open title to eventual new champion Stanislas Wawrinka, losing their quarter-final 9-7 in the fifth set at the end of a fiercely contested battle.

Djokovic then took time to tweet his congratulations to his conqueror.

"For me it's important to always know where I come from, be grateful for the life that I have, of course cherish and nurture every moment spent on the court," he said. "Since I was four or five years old I played this sport, always dreamed of playing on this stage, so I don't take any situation for granted."

Djokovic took some time off after Melbourne to enjoy some time skiing in the mountains, so he will arrive in Dubai fully refreshed after his gruelling run at the Australian Open.

"We are all eagerly anticipating seeing Novak back in Dubai," said Tournament Director Salah Tahlak. "He is a true champion, both on and off the court and we wish him the best of luck in his defence of his title."

Play in the Dubai Duty Free Tennis Championships begins with the WTA event, which takes place between February 17 and 22 and features six of the world's top 10, including defending champion Petra Kvitova, 2011 winner Caroline Wozniacki, 2012 champion Agnieszka Radwanska, 2013 runner up and recent Paris Indoor finalist Sara Errani, former world number ones Ana Ivanovic and Jelena Jankovic, and sensational Romanian star Simona Halep, voted the Most Improved Player of 2013.

Play then continues between February 24 and March 1 with the action-packed ATP tournament.

The Dubai Duty Free Tennis Championships is owned and organised by Dubai Duty Free, and held under the patronage of His Highness Sheikh Mohammed bin Rashid Al Maktoum, Vice-President and Prime Minister of the UAE and Ruler of Dubai.

Tickets for the event are on sale from the Box Office at the Dubai Tennis Stadium, Garhoud which is open from 9am to 9pm daily.

Grandstand ticket prices range from Dh75 for opening rounds to Dh500 for finals, with season tickets also available.

For further information about tickets, prices and the tournament visit https://www.dubaidutyfreetennischampionships.com or phone the call centre on +971 4 4172415.


Follow Emirates 24|7 on Google News.