Djokovic and Federer to continue rivalry at Dubai Tennis Championships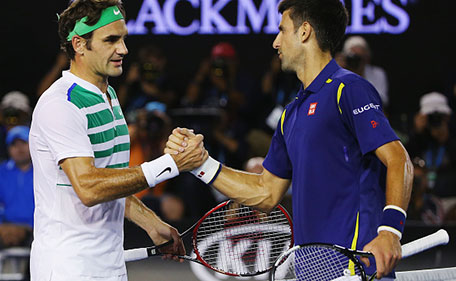 World number one Novak Djokovic and seven-time champion Roger Federer are set to continue one of the greatest rivalries in the history of the sport when they compete in the Dubai Duty Free Tennis Championships.
The rivalry was evenly balanced at 22 wins apiece as the 2016 season got underway and their career prize money was almost identical, with Djokovic banking $94 million and Federer $97 million.
They even shared the spoils at the ATP Tour World Finals last November when Federer claimed their round robin clash but Djokovic won their second meeting of the week in the final.
And it was Djokovic who edged ahead in their rivalry when he overcame Federer to reach the final of the Australian Open.
The pair have claimed an incredible 11 of the last 13 titles in Dubai, and both have the distinction of beginning their success by winning the prestigious event three straight times - Federer in 2003-5 and Djokovic 2009-11.
With four meetings in Dubai, Federer won their first contest in the 2007 quarter-finals, and Djokovic won the next clash in the 2011 final.
They met again in the 2014 semi-finals with Federer securing victory, and last year the final saw Federer win 6-3 7-5.
As both players push each other to the limit, there is no doubt that the skill and talent of one has led the other to raise the level of their training and game even further.
Djokovic noted the changes Stefan Edberg made to Federer's game before ending the relationship amicably at the end of last year.
"He is definitely coming forward to the net and trying to shorten the points," Djokovic said. "He does this well and he obviously had to make some tactical changes and adjust to the new generation of players.
"He has a very precise serve and chips the slice, comes to the net, and takes away your time. The guys, including myself, don't like it when we don't have much time and he knows this. He's got this great variation in his game; he can play defence, offence, whatever he wants. I think that's what allows him to stay so long at the top of the men's game."
While Djokovic points to Federer's variety, Federer credits his great rival's consistency for the success he has enjoyed.
"He's really consistent and it seems like there are not many guys that can hang with him, many don't have the tools or can go forward, or they aren't daring to serve and volley against him because he's so good on the return. He's perfected his game on the hardcourts; there is no doubt about this."
Federer is now 34 but 28-year old Djokovic does not view the age difference as an advantage for him.
"He still plays very, very well," said Djokovic. "He definitely still feels very confident and dominant on the court. He's reaching final stages of the Grand Slams and big events. You know that he's always going to play on a high level, so he always makes you work for your win. His forehand is still out there as one of the best weapons he's got."
"I don't feel any different to let's say four years ago," Federer insists. "You maybe pay attention a bit more and listen to the signs of your body a bit more. I think the mind also becomes important and you ask yourself questions such as, how badly do you want to be out there? How badly do you want to play and win? Why are you still doing it? Are you doing it for the right reasons?"
"We are delighted to have watched two of the greatest players the game has ever seen play out their rivalry at the Dubai Duty Free Tennis Championships," Colm McLoughlin, Executive Vice Chairman of Dubai Duty Free, the tournament owners and organisers. "It's always impossible to predict who will emerge as the winner, and the only certainty is that they will provide great entertainment."
"The great rivalry between Novak Djokovic and Roger Federer will continue at the Dubai Duty Free Tennis Stadium, but with such an abundance of tennis talent taking part in one of the most popular tournaments in the world that will be only a part of the excitement," said tournament director Salah Tahlak. "With such a fantastic line-up that includes many of the best players in the world, tennis fans are guaranteed two weeks of wonderful competition."
Play in the Dubai Duty Free Tennis Championships begins with the WTA event, which takes place between February 15-20 and features world number one Serena Williams, Wimbledon finalist Garbine Muguruza, 2015 WTA Finals and 2016 Shenzhen champion Agnieszka Radwanska, and former world number ones Ana Ivanovic and Caroline Wozniacki.
Play then continues between February 22-27 with the action-packed ATP tournament featuring not only Djokovic and Federer, but two-time Grand Slam winner Stan Wawrinka and world number six Tomas Berdych.
The Dubai Duty Free Tennis Championships is owned and organised by Dubai Duty Free, and held under the patronage of His Highness Sheikh Mohammed bin Rashid Al Maktoum, Vice-President and Prime Minister of the UAE and Ruler of Dubai.
Tickets for the event are on sale at the Box Office at the Dubai Duty Free Tennis Stadium, which is open from 9am to 9pm daily and online at https://www.dubaidutyfreetennischampionships.com/en/tickets
Follow Emirates 24|7 on Google News.