Djokovic quits Dubai with eye problem, ends 17-finals streak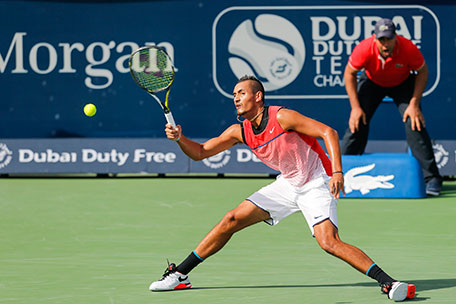 World number one Novak Djokovic's stunning streak of 17 successive finals came to an end Thursday when a right eye infection caused the 11-time Grand Slam champion to quit his Dubai quarter-final against Feliciano Lopez.
The top-seeded Serb lost the opening set 6-3 during which he had to summon the tournament doctor before quitting after half an hour on court.
The retirement represents the first time the 28-year-old has failed to make a final since Doha in January 2015.
"The eye problem will fade away in a few days," said Djokovic, who conducted his post-match press conference wearing sunglasses.
"I've got a lot of important events waiting - starting with the Davis Cup at home next week, followed by Indian Wells, Miami and the claycourt season.
"Physically I feel fine. I'm really sad to end the tournament this way, but I was forced to."
Sixth seed Lopez said he only discovered Djokovic's problem when the pair shook hands at the net.
"I had no idea before the match, he told me he had an infection in the eyes since a few days already," said the left-hander.
"It's very sad when one of the greatest players ever has to retire from a match like that."
Djokovic, whose last retirement from a match came in a Davis Cup clash in 2011, committed 18 unforced errors in the nine games played.
The Australian Open champion, who racked up his 700th career win on Wednesday, was booed by some fans as he walked off court having suffered his first loss in 15 matches in 2016.
French Open champion Stan Wawrinka reached the semi-finals where he will face brash Australian Nick Kyrgios for the first time since their infamous spat in Canada last year.
Wawrinka saw off Germany's Philipp Kohlschreiber 7-5, 6-1 while Kyrgios stunned third-seeded Tomas Berdych of the Czech Republic 6-4, 6-4.
When the pair met in Montreal last August, Kyrgios was widely lambasted for making crude sexual remarks concerning Wawrinka's girlfriend Donna Vekic, a Croatian WTA professional.
Kyrgios was handed a suspended 28-day ban and $25,000 fine.
Wawrinka admitted that the two men are not close.
"He's a tennis player, I'm a tennis player. We are not friends, for sure. We don't go to dinner together. But there is nothing else," said the Swiss.
Kyrgios, ranked 33rd and who won his maiden title in Marseille last weekend, isn't expecting fireworks.
"Since the incident, I think we've both moved on," said Kyrgios.
"We played on the same team in the IPTL (International Premier Tennis League). That was actually really good. I got to know him a little bit more.
"He played great there. He's one of the best players in the world, no doubt."
Second seed Wawrinka had to break in the final game of the first set against Kohlschreiber after twice losing leads.
He then took hold of the match to clinch a runaway victory with 27 winners and five breaks of serve.
Kyrgios brought out the physio after the fifth game of the opening set for a tight back.
The right-hander, who was injured during the Australian Open in January, has been going flat-out since returning last week.
"I wasn't in the greatest shape, obviously. I think I got a bit of food poisoning last night," said Kyrgios who had also defeated Berdych in Marseille.
He will be tested physically even further next week with a Davis Cup tie in Melbourne against the United States.
Berdych, a two-time Dubai finalist, had reached the semi-finals at the Aviation Club in four of the last five years.
Kyrgios took 41 minutes to win the first set but dominated in the second, losing only three points on serve as he rolled to the win, finishing with a 10th ace.
Marcos Baghdatis returned to the semi-finals after a six-year absence as he knocked out fourth seed Roberto Bautista Agut 7-5, 6-0.
Baghdatis will face Lopez for a place in the final.
Follow Emirates 24|7 on Google News.