Dubai fan wants Leicester to win Premier League title 'for late hubby'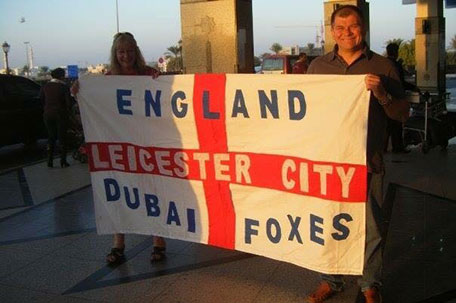 Leicester City are in pole position to win the Premier League but if it does eventually happen there will be mixed emotions for a Dubai-based fan of the club Denise Midgley who travels every week from the UAE to cheer her team.
"Arsenal want to win it really badly. Manchester City also want to win. All the big clubs want to. But Leicester is not under pressure to win it," said Denise who has been a fan of the club since the age of eight although Leicester has never won any trophy in history with their best being second position in the league back in 1929.
"The whole world is talking about Leicester City. We don't have money but we have the spirit. What we have achieved upto this moment is amazing," said Denise who is proud not of only Leicester but also her connection to Dubai.
Every week she goes to watch Leicester City matches with her husband Ian, 54, who has been living in the UAE for 25 years.
However, last December her husband suffered a heart attack when they were on their way to Anfield to Liverpool to play Leiceser and died on his way to the stadium.
Leicester got to know about what happened and sent her condolences with Liverpool manager Jurgen Klopp also sending a letter to her expressing his sympathies.
Ian was a passionate Leicester City fan like her and the British couple used to take a flag which contains Dubai emblazoned on it.
Her amazing story after the death of her husband continued to touch the conscience of Leicester City who sent her an invitation to watch her favourite club playing Sunderland from the VIP box.
"They invited me to attend the match last week with the owner of club Thai billionaire Vichai Srivaddhanaprabha (formerly Vichai Raksriaksorn) also in attendance. It was a nice move. I appreciate that but I turned it down because I prefer to sing and be like a normal fan in the stands because im going through a difficult period and when I'm singing with the fans and standing with them it makes me feels better," said Denise in an exclusive interview Emarat Al Youm published on March 8, the day after birthday which did not celebrate this time since she was grieving the loss of her hsuband.
"Leicester fans supported me a lot after this and I'm very grateful to them for this thing. Even the letter from Klopp, he didn't have to but he was very kind to do that. I was surprised to see the letter in my house and then I knew that Liverpool got in touch with Leicester City to know my address," she said.
Thereafter when she mentioned it to one of her Liverpool friends who used to live in the UAE, he put up the letter in the pubs where the Liverpool fans go to often. The fans from Liverpool also got to know about what Klopp did.
"We (Leicester) are going to win the league for Ian but if that happens there is going to be a kind of mixed feeling in my heart. I will be both happy and sad. Happy that the team won league but sad because my husband isn't there," she said.
But she lifted her spirits to talk about Leicester winning the title with nine rounds remaining.
"Anyway im going to be proud of my team whether they win or not. I never told officials in the club like you have to win the league for my husband because if the team won (title), it's because they deserve it," said Denise who has stood by the club through good and bad times.
"I have never seen the team winning something but I support them whether it is good or bad. When I met Ian 18 years, he wasn't supporting Leicester City because he was very busy with his work in the Middle East but then I transferred to him this passion. We started going to the matches together. This flag that I'm really proud of, we used to take it with us when we go to the away matches," she said wistfully.
Follow Emirates 24|7 on Google News.