Dubai hosts World Military Endurance Championships on March 6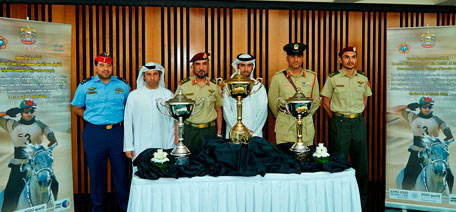 Dubai is the venue for the second annual CISM World Military Endurance Championship sponsored by IPIC on Thursday March 6.

The international event, sponsored by Meydan Pillar Partner, IPIC and organised by Meydan Group's Dubai Equestrian Club (DEC) alongside the military sport body, CISM (Conseil International du Sport Militaire) and the UAE's Ministry of Defence, will draw together military endurance riders expected from 20 countries.

Riders will compete both as individuals and in teams of four over a 120km course at Dubai International Endurance City (DIEC).

Endurance riding is one of 26 sporting disciplines recognised by CISM.

The UAE made a winning start to this event last year when Sheikh Hamdan bin Mohammad bin Rashid Al Maktoum, the Crown Prince of Dubai, claimed the first gold medal in the inaugural running of the ride in Bahrain.

Competitors are due to arrive in the country for a week of events from March 1, 2014. Athletes will also participate in an Opening Ceremony to mark the annual occasion.

The pre-ride inspection is scheduled for March 5 while the championship will take place on Thursday March 6.

"Started under the directive of the late President His Highness Sheikh Zayed bin Sultan Al Nahyan, the UAE has become one of the top international competitors in endurance horse racing," said Khadem Al Qubaisi, Managing Director of IPIC. "One of the main reasons why IPIC joined forces with Meydan was to become active in sports that have strong roots in the Emirati culture."

Mohammed Essa Al Adhab, Deputy General Manager of DEC said: "We are looking forward to welcoming the best endurance riders in the world's military to Dubai. This event is a great way to bring many different nationalities together in the spirit of competition and unity and we are very pleased to extend our world-renowned hospitality to every competitor.

"We would also like to extend our thanks to our new Meydan Pillar Partner, IPIC for the support of this event."

S. Colonel Abdullah Humaid Al Falasi, Chief of United Arab Emirates delegation said: "The horse has served as an integral part of the world's military with the development of cavalry tactics that have been in practice for more than 5,000 years. While equine involvement in military matters is now largely symbolic, the participation of the horse throughout the years is honoured through the many equestrian disciplines recognised by CISM.

"The UAE is a highly-successful nation in the sport of endurance riding and we expect a strong showing from our team members on home ground."

While many GCC nations are expected to bring their own horses for the competition, the Dubai Equestrian Club will also provide horses to visiting teams.
Follow Emirates 24|7 on Google News.