Dubai's first 24-hour Cricket Marathon takes place at Sports City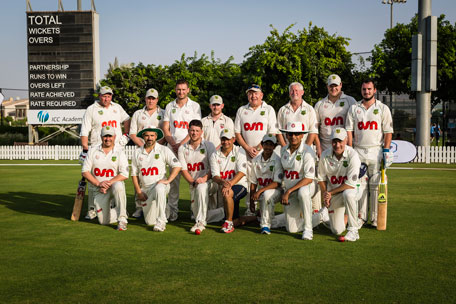 A 24-hour cricket marathon will take place this month, at the International Cricket Council's Cricket Academy (ICC CA) in Dubai Sports City, in support of non-governmental medical humanitarian organisation Médecins Sans Frontières (MSF).

Dubai's longest ever game of cricket will be organised by Darjeeling CC – the UAE's oldest cricket club, established in 1969 – in memory of long-standing former club member Simon Fowler, who passed away earlier this year.

The event will take place from 12 noon on Thursday November 20, until noon on Friday 21, with several consecutive matches being played continuously over a 24-hour period.

It will be first time a 24-hour cricketing marathon has ever been held in the UAE. The match is being supported by the ICC CA, and the Els Club, among others.

Mohamed Bali, Executive Director of MSF in the UAE, said: "The success of our work in this region and across the world, relies on the support we receive from individual supporters. Serving two purposes, this game of cricket will not only honour and remember the life of a committed, generous cricket lover and MSF supporter, but it will also ensure that in his memory MSF can continue to make a difference to the lives of people less fortunate across the Middle East. This is a great initiative and we thank Darjeeling for their support."

The cricket marathon will conclude with a match between Darjeeling and a Dubai Celebrity XI from 8am – 12noon on November 21.

The Celebrity XI, which will include members of the UAE national team, will be captained by local broadcaster and cricket fanatic Tom Urquhart.

The final match will take place alongside a brunch and auction, where sporting memorabilia and more will be offered in support of MSF – a cause Simon Fowler dedicated much of his time to.

"I am delighted to be taking part in this event," said celebrity team captain Tom Urquhart. "Cricket is a passion of mine and a sport that brings people together from across the cultural landscape in the UAE. What better reason for a record breaking game of cricket, than to remember a dedicated member of the local cricket community and a person committed to giving."

The family-friendly event will also feature a live DJ on both days, raffle with great prizes, a silent auction and live auction of sports memorabilia.

Chris Dommett, Club Captain of Darjeeling CC, said: "We play at the ICC Academy every week and are grateful to them for allowing us to stage the event here. Simon was a much-liked member of our club, a wonderful cricketer and a great guy, and we couldn't think of a better way to honour him. This is just the sort of thing he'd most want."

Anyone wishing to support the event in any way, should head to the Darjeeling Facebook page, website darjeelingcricket.com or tweet mentioning the handle @Darjeelingcc.
Follow Emirates 24|7 on Google News.