Dubai to host first ever IPC Athletics Asia-Oceania Championships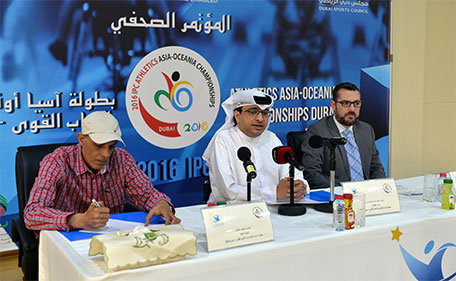 Dubai is all set to host the first ever IPC Athletics Asia-Oceania Championships between March 2 to 13 at the Dubai Police Officers Club in Jadaf.
The road to Rio Paralympics begins in Dubai for 248 athletes from 26 countries as they make a bid to qualify for the upcoming Games in Brazil in September.
It is being held under the patronage of His Highness Sheikh Hamdan bin Mohammed bin Rashid bin Saeed Al Maktoum, the Crown Prince of Dubai and Chairman of the Dubai Sports Council (DSC) and organised and supervised by the Dubai Club for the Disabled with the support of the International Paralympic Committee (IPC), the General Authority for Youth and Sports Welfare, the DSC and the UAE Paralympic Committee.
"We are privileged and honoured to be hosting the inaugural IPC Athletics Asia-Oceania Championships which has attracted 248 athletes from 26 countries, including 31 male and female competitors from the UAE. In the UAE and especially Dubai, we have a proud tradition of supporting and developing para-sports," said Majid Abdullah Al Usaimi, Executive Director at the Dubai Club for the Disabled and Director of the IPC Athletics Asia-Oceania Championships at a press conference on Tuesday.
"Dubai has shown in the past it has the capacity to stage world-class competitions such as IPC Powerlifting World Cup and over the last two years the IPC Athletics Grand Prix. Our aim is not only to provide high level competition for athletics but also to ensure the continual development of para-sport in the region and we are confident with these Championships we can continue to do so. We also thank IPC for their trust in us and we are ready with all committees in place to make the Championships a success," he added.
The participating countries are China, Hong Kong, Indonesia, Iran, Iraq, Japan, Kazakhstan, Saudi Arabia, Macau, Malaysia, Mongolia, New Zealand, Qatar, Sri Lanka, Thailand, Chinese Taipei, UAE, Vietnam, Afghanistan, Papua New Guinea, Tajikistan, Pakistan, Kuwait, Nepal, Fiji and India.
The Chairman of the International Paralympic Committee (IPC) Athletics Ryan Montgomery, underlined the importance of competitions this year because of the Rio Paralympics and as part of their strategy to provide more high-level competition opportunities for para-athletes around the world.
"There are a large amount of competitions that athletes can have an opportunity to run fast, throw far or jump far in terms of high quality competitions where they will be pushed. The Asia-Oceania Championships in Dubai is the season-opener. Reason to have it in Dubai is because we have an excellent relationship with Dubai, an excellent relationship with the Dubai Club for the Disabled and excellent relationship with the new President of the Asian Paralympic Committee Majid Al Usaimi," said Montgomery who explained why Asia and Oceania were combined.
"Oceania by itself does not have enough NPCs (National Paralympic Committees) to hold a sustainable championships and Dubai's proximity to Asia makes sense to hold an Asia-Ocean Championship. It's not uncommon for sports bodies to have Asia-Oceania or Asia-Pacific championships quite regularly," he said.
"Our aim at IPC Athletics is to develop a competition calendar that caters for the long term development of athletes and National Paralympic Committees in all regions around the world. Looking further ahead, regular regional Championships in Africa, the Americas and Asia-Oceania are in development to sit alongside the strong competition calendar in Europe, ensuring the further development of the sport."
In addition to the new Championships in 2016, Grosseto, Italy, will also stage the IPC Athletics European Championships in June. Both events, as well as the 2016 Grand Prix series, will provide qualification opportunities for athletes wishing to compete at the Rio 2016 Paralympic Games.
Najeeb Mushkhan, Technical Committee representative of the IPC Asia-Oceania Championships explained the schedule and technical details of the event.
"Classification of athletes will take place from March 3 to 5. IPC athletes will participate in five days of world class track and field at the Dubai Police Officers Club in Jadaf, Dubai. The competition will be held from 3.30pm to 7.30pm daily from March 7 to 12. Athletes will compete in distances from 100m, 200m, 400, 800m, 1,500m, 5,000m, 4x100m and 4x400m relay events on the track, and field events of shot put, discus, javelin, club throw, long jump, high jump and triple jump. The track and field events will be held in accordance with the rules and regulations of IPC Athletics," he said.
Follow Emirates 24|7 on Google News.