Dubai Tour: Audi Al Nabooda to drive SkyDive Dubai Pro Cycling Team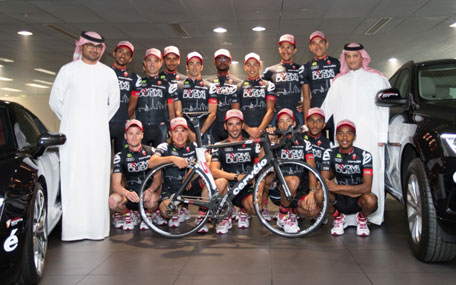 The new SkyDive Dubai Pro Cycling Team has received a sponsorship boost from Audi Dubai in the build up to the inaugural Dubai Tour, which kicks off the 2014 international racing calendar.

Top Emirati athlete Mohammed Al Murawwi, Francisco Mancebo, Oscar Pujol, Sebastian Haedo and Alexandr Pliuskin will take their place in the SkyDive Dubai Pro Cycling Team line-up for an event which features many other stars, including reigning Road World Champion Alberto Rui Costa, British spring king Mark Cavendish, and Spain's Joaquin Rodriguez, who topped the 2013 International Cycling Union (UCI) World Tour rankings.

The new sponsorship agreement with the SkyDive Dubai Pro Team was announced by Ali Al Nabooda, General Manager, Audi Al Nabooda Automobiles: "Sport is a particular passion for Audi throughout the world, and especially for us in Dubai. We're pleased to support the new team at the start of an exciting new era for cycling here."

"The SkyDive Dubai Pro Cycling Team is the first professional project in the history of UAE cycling, and supports the vision of His Highness Sheikh Hamdan Bin Mohammed Bin Rashid Al Maktoum to develop the sport in the Emirates. We are proud to be lending our support to this initiative."

"We are thrilled top Emirati athlete Mohammed Al Murawwi is part of the team. He is one of the best cyclists in the Gulf region and an athlete with huge potential. We hope to see him on the start line of the Tour de France is 2017."

Abdulrahman Alaamri, General Manager, SkyDive Dubai added: "Audi is a brand I respect and admire. Their commitment to supporting a whole range of sporting activations in Dubai and the Northern Emirates gives them an exclusive edge. We're looking forward to a successful partnership throughout the racing calendar."

The Audi sponsorship covers the SkyDive Dubai Pro Team's full 2014 race programme, which includes UCI events in Europe, North America, South America, Asia and the Middle East, including the Dubai and Sharjah Tour.

Taking place from February 5 to 8, the Dubai Tour features 16 teams of eight riders, including 11 UCI Pro Teams, the UAE national team and the SkyDive Dubai ProTeam.

Each of four stages will start from the Dubai World Trade Centre, beginning with the Down Town stage, a 10km individual time trial. Stages of 122km around Dubai and 162km finishing in Hatta follow, with the final 124km stage crossing the old part of the city and passing the iconic Burj Al Arab and Burj Khalifa.

Follow Emirates 24|7 on Google News.