Dunlop 24 Hours of Dubai to kick start international endurance season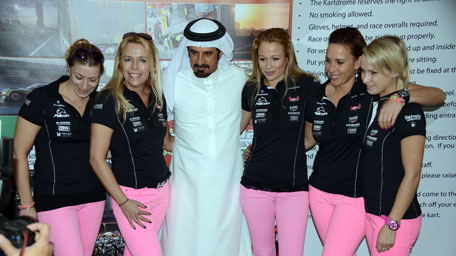 Dubai Autodrome will again be hosting the first international endurance race of the new year for GTs, touring cars and 24H Specials.

Speaking at the official press conference for the 2014 Dunlop 24 Hours on Tuesday, Dr Mohammed Ben Sulayem, President of the Automobile and Touring Club of the UAE (ATCUAE) and FIA Vice-President hailed the event for the quality field it has attracted, while acknowledging that the Dubai race is now a respected mainstay of the international motor racing calendar.

The ninth edition of the event, which takes place on January 9, 10 and 11 at Dubai Autodrome, is held under the patronage of Sheikh Hamdan bin Mohammed bin Rashid Al Maktoum, Crown Prince of Dubai and Chairman of the Dubai Sports Council.

Dr. Ben Sulayem said: "We have seen this race grow not only in size but also in quality. We have top teams and top drivers competing for what is one of the most prestigious endurance race trophies on the international motor racing calendar. We must congratulate all concerned for the efforts and hard work that goes into making the Dunlop 24 Hours of Dubai happen."

"This event has also enabled us in the UAE to showcase the progress in our own motorsport development, not only teams and drivers but also officials, marshals and all the support staff behind the scenes who make it all happen, and help make it the success that it has become," added Dr. Ben Sulayem.

Rain affected the press conference which was to feature top local karting drivers in a race against drivers competing in the Dunlop 24 Hours race. The 'shootout' could not happen due to the wet conditions at the time of the press conference.

Gerrie Willems, spokesperson for organisers Creventic, said: "We are proud of the quality of teams and drivers that have entered this year's race which we have now hosted for the past nine years here in Dubai. But this is not the work of one organisation, as I must thank the ATCUAE and Dubai Autodrome for their efforts which have helped us make this event the flagship endurance race of our portfolio."

A total of 80 cars are expected on the grid when the UAE flag waves to start the race at 2.00 pm on Friday, with over 300 drivers doing duty during the course of the 24 hours, backed up by over 1000 support crew.

Teams are up for the challenges of the race as crew unloaded equipment and began final preparations for unofficial testing on Wednesday, followed by practice and qualifying on Thursday.

Team managers will no doubt be well aware that rain is always a possibility at this time of the year in the city, and thus conditions will play a vital role in the way the event pans out - mastering these effectively will be the key to success in the race.

The event - which will be televised live on Motors TV, through You Tube and live streaming on live.24hseries.com/ - will be covered by 130 accredited journalists, photographers and TV crews from around the globe.

Dubai Autodrome general manager Richard Birch observed, "This time of the year in Dubai the weather is great for visitors who come here from freezing conditions in Europe and North America. However rain is always a possibility as today (Tuesday) has proved. Of course we are well prepared for this, but it adds an intriguing element to the vast challenges that a race of this nature throws up for teams and drivers to contend with."

"Nevertheless I welcome all visitors to our great city and sincerely hope everyone enjoys this weekend of racing. Thanks to Creventic and the ATCUAE who are more than partners for their collective efforts. We have also seen the Dubai Sports Council and Dubai Department of Tourism & Commerce Marketing embrace this event, further enhancing the status of the Dunlop 24 Hours of Dubai. We thank them all for their valuable input," added Birch.

On track action starts on Wednesday, January 8 with optional Private Testing which should see most of the 'big guns' out to dust off the festive season cobwebs.

The first of three Free Practice sessions will get underway at 11:30 am on Thursday, January 9. This is followed by three qualifying sessions, the first of which gets going at 3:00 pm on the same day.

Race day is on Friday January 10, track action starts at 10:30 am with a half hour warm-up, with the race set to be flagged off at 2:00 pm. The chequered flag will wave, to bring proceedings to an end 24 hours later, on Saturday at 2:00 pm. This will be followed by podium ceremonies for all classes.

Entry for spectators is free throughout the weekend, including qualifying and race days, with access to grandstands and the Paddock Village where a myriad of activities will be on hand to keep fans thoroughly entertained.

No less than 28 cars have been entered in the A6 class for GT3 machines. Team Abu Dhabi by Black Falcon, the winners of the two previous editions of the Dunlop 24H Dubai, will be out to add another success and has entered a pair of Mercedes-Benz SLS AMG GT3 cars, its driver line-up including local hero Khaled Al Qubaisi, five times' DTM champion Bernd Schneider and the most successful driver in history of the Dunlop 24H Dubai, Jeroen Bleekemolen.

Other gullwing sportscars are run by German teams, Car Collection Motorsport and ALLINKL.COM Münnich Motorsport, the 2012 FIA GT World Champions, with FIA GT Champion Marc Basseng and the 2012 FIA World Touring Car Champion Rob Huff among its drivers, plus Italian outfit, GDL Racing.

German outfit SX Team Schubert, also a former race winner, is running a BMW Z4 GT3 with BMW works driver Dirk Werner in the line-up. A similar car is run by another German team, Walkenhorst Motorsport.

The Swiss FACH Auto Tech team, that won the A6 amateur class last year, is back with a pair of Porsche 997 GT3 R cars, one of them with Porsche junior driver Connor de Philippi on board.

Crubilé Sport, Stadler Motorsport and Attempto Racing are also running GT3-Porsches, including Porsche junior driver Alex Riberas in one of the two Attempto cars.

Ferrari's colours are represented by Spirit of Race, Ram Racing, Race Alliance, Visiom, Dragon Racing and GT Corse.

Hong Kong-based team, Craft Racing AMR, is running a pair of Aston Martins while AF Racing International from Belgium and rhino's Leipert Motorsport from Germany are both competing with Lamborghini Gallardo.

British Team LNT has brought a Ginetta G55 GT3 while American power is coming from Dutch teams V8 Racing and Manor MP Motorsport with a Chevrolet Corvette C6-R and a Dodge Viper respectively.

No less than eleven cars have been entered for the Porsche Cup class. German team, MRS GT Racing, is running a 991 Cup car with four times' Porsche Supercup champion, Patrick Huisman, as one of its drivers.

The other teams, GDL Racing from Italy, Förch Racing by Lukas Motorsport from Poland, German outfits Black Falcon and Car Collection, Belgian team Speedlover, Motorsport Services/STR from Australia and Team Parker Racing Ltd. from the UK, are all running 997 Cup cars.

The SP2 class includes a pair of Nissan 370Z cars from the Nissan GT Academy Team RJN, one Mosler MT900 from Gravity Racing International, one Renault Mégane Trophy silhouette from Belgian team Boutsen Ginion Racing and three GC Automobiles silhouettes from the factory team.

The SP3 class consists of three Ginettas (Optimum Motorsport and Speedworks Motorsport from the UK and Nova Race from Italy), one Audi R8 run by Dutch team, Red Camel-Jordans.nl, one Aston Martin (Perfection Racing Europe), one BMW M3 GT4 (Bonk Motorsport) and Cor Euser Racing's Lotus Evora GT4. As usual, the A5 class is an all-BMW affair with entries from German teams Sorg Rennsport, Hofor-Kueperracing and Black Falcon, JR Motorsport from The Netherlands, RTR Projects from the Czech Republic and Duwo Racing from Luxemburg.

The SEAT Leon Supercopa car is the machine of choice in class A3T with entries from New Zealand-based team Motorsport Services, Lebanon's Memac Ogilvy Duel Racing, Pfister Racing from Germany, the Austrian Prefa Racing Team and Grove & Dean Motorsport from the UK.

They are facing opposition from Polish team, Förch Racing by Lukas Motorsport with a Volkswagen Golf TDI and last year's class winners, the Racingdivas Team Schubert with an all-female line up of five Dutch lady racers.

The A2 class has some more variety with five Renault Clios (AD Racing/K-Rejser from Denmark, Speedlover from Belgium, APO Sport from the UK and Modena Motorsports from Hong Kong), two Hondas (Lap 57 from the UAE and Belgian team, VDS Racing Adventures), one Mini John Cooper Works Endurance (Racing 4 Friends from Germany) and one Suzuki Swift (QMMF from Qatar).

And last but not least, the D1 diesel class includes a SEAT Leon TDI (Red Camel-Jordans.nl from The Netherlands), one Volkswagen Golf TDI (KPM Racing from the UK) and three BMW 120D (SVDP Racing from the UAE, Recy Racing Team from Belgium and Cor Euser Racing from The Netherlands).
Follow Emirates 24|7 on Google News.