F3 falconer Rashid Bin Mijrin 'Stars' in 'Al Noukhba' Super Finals of 'Fakhr Al Ajyal'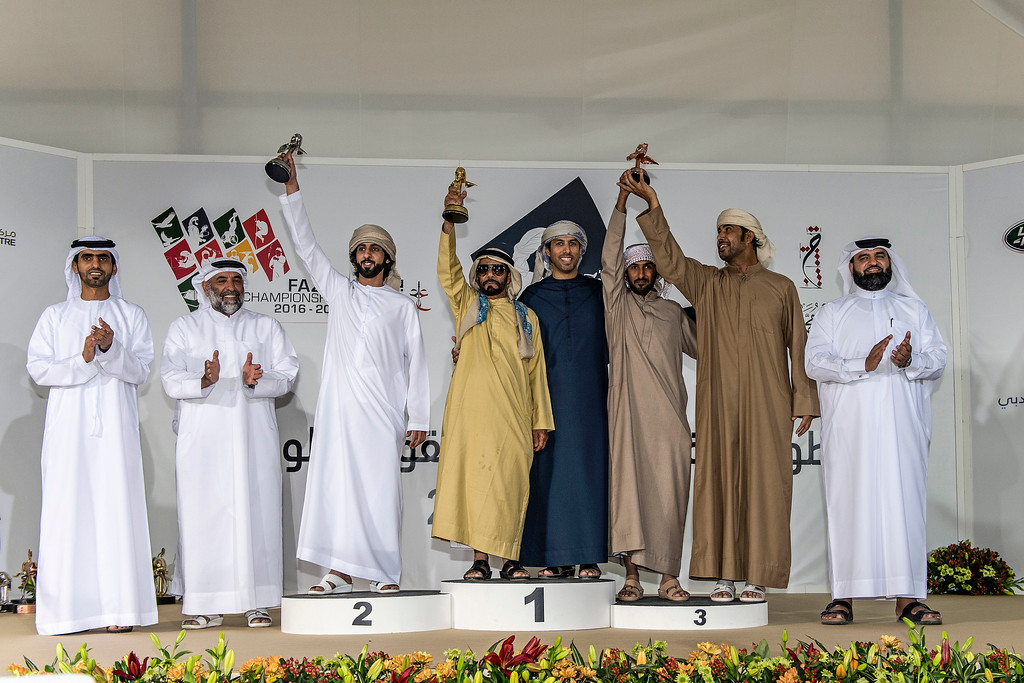 Khalifa Bin Mijrin-led F3-K team underlined their supremacy by winning the Sheikhs category in the 'Noukba' (Elite) Super Finals of the 'Fakhr Al Ajyal' Championship for Falconry organized by the Hamdan Bin Mohammed Heritage Center (HHC) in Dubai on Monday 13th February at the dedicated falconry site in Ruwayyah off Emirates Road.
The season-finale 'Noukba' Super Finals falconry competition was held in the Sheikhs and General Public categories for the first time with 118 falconers vying for glory in the 'Farkh' and 'Jernas' events. Luxury cars were given to the top three winners in the four finals, bringing the curtain down on the falconry season which produced some superlative performances.
Mahaemid Khalifa Sultan Saif Beljafla Al Mansouri and Hazza Mohammed Al Mahmoud claimed the 'Noukbha' titles in the General Public category. But the cynosure of all eyes was the three Bin Mijrin brothers – Khalifa, Hamdan and Rashid - representing F3-K whose unrivalled consistency throughout this season saw them being crowned as champions.
Such was their brilliance that the youngest of the Bin Mijrin brothers, Rashid, even upstaged his more accomplished brother Khalifa, when his falcon 'Stars' clocked an amazing time of 16.998 seconds in the 'Noukbha' Farkh Super Finals of the Sheikhs category as F3 won the first three places with ease.
Honoured
'Ghaith', the falcon of His Highness Sheikh Hamdan bin Mohammed bin Rashid bin Saeed Al Maktoum, who won first place in the Hurr Wahish Farkh Tilwah final, was honoured for his gracious participation. Falconer Suhail Al Kindi received the award on behalf of His Highness the Crown Prince of Dubai, during the prize presentation ceremony.
Ms. Suad Ibrahim Darwish, Director of Championships at HHC, praised the winners of all titles this season and all participants for making the championship a roaring success with their brilliant performances, especially during the 'Noukbha' Super Finals.
"Having crowned the champions today, we now begin to think about the planning for the next season which starts in December, where we will review every aspect of the competition being mindful of our quest to improve all technical and organizational levels for the championship.
In keeping with the vision of our wise Leadership, there is no limit to innovation and excellence to organize the best Fazza Championships for Falconry in general and the Elite Super Finals in particular," she said.
Sowaidan bin Dumaithan, Head of the Organizing Committee of the Fazza Championships for Falconry, lauded the commitment of falconers to maintain high standards of professionalism while noting that the weather had an impact on performances.
"The number of participants keep on increasing each year which is a positive sign. We have never had strong winds throughout the days of the tournament. We had to postpone only one day because of rain. On the rest of the days it went smoothly and contributed to the record timings," he said.
Weather
"He is a very good bird. It came first two times before but nobody was expecting this male peregrine to win. There was a change of weather and it helped him get very strong time. Of course it feels nice beating everyone. This is the most important thing," said Rashid Bin Mijrin after spurring F3 to victory in the 'Noukbha' Farkh Super Final in the Sheikhs category.
F3-K falcons 'Paintball' and 'Mizion' came second and third in the 'Noukbha' Farkh Super Final clocking times of 17.273 seconds 17.275 seconds respectively.
In the 'Noukbha' Jernas Super Final of the Sheikhs category, F3-K falconer Khalifa Bin Mijrin won the first two places with 'Arion' clocking 17.550 seconds and 'Fitna' 17.603 seconds. F3-R falconer Rashid Saeed Sultan Al Kindi's 'AT 19' won third place clocking 17.645 seconds.
"It is not a surprise performance. These birds fly differently daily. I know mine is stronger but the wind also plays a part. When I release mine, which came second, there was a strong wind. He still came second. And 'Arion' came first in the Jernas final. He also flew against a strong wind but he did it," said Khalifa Bin Mijrin who attributed the dominance of F3 falcons to a team effort and years of hard work and preparation.
"It is a combination of experience and hard work. We have worked hard the last 15 years and we have improved our training skills. Also we have improved the bloodline of some of the falcons we are flying. We choose also the right weather from there we start training the falcons.
This is a part of the success," said Khalifa reiterating that his brothers fuel the spirit of competition within the F3 team.
"We enjoy competing against each other but in the end we are one team (F3). I would keep my best falcon with my brother. My brother would leave it with me the same way. We have almost the same skills, same technique and sometimes we also get lucky," added Khalifa, the eldest of the Bin Mijrin brothers.
Hamdan Bin Mijrin said the competition within the family was to bring glory to F3 as a team.
"We do compete between each other but most important thing is we support each other. If I am missing something one of my brothers supports me. There are different teams competing with us. They are all good birds but finally we (F3) were lucky to win it," said Hamdan who has been learning falconry since the age of four from his inspirational brother Khalifa.
General Public
In the 'Noukbha' Farkh Super Final of the General Public category, 'Dima' owner Mahaimid Khalifa Sultan Saif Beljafla Al Mansouri won in a time of 18.248 seconds. Khalid and Salem Nasser Al Hajri's falcon came second in a time of 18.502 seconds while Saeed Misbah Mohammed Al Sheddi's falcon named 'Concert' came third in a time of 18.582 seconds.
"Competition in the Elite tournament is always the strongest. Winning gives a special satisfaction because of the strength of birds and falconers," said Al Mansouri.
Hazza Mohammed Al Mahmoud's falcon 'The Meanings' led by falconer Ahmed Thani Al Rumaithi, won the 'Noukbha' Jernas Super Final in a superb time of 17.862 seconds.
Eid Mohammed Khalifa Sultan Beljafli Al Mansouri's falcon came second in a time of 18.244 seconds while Mohamed Ahmed Thani Al Falasi's '36' took third place in a time of 18.246 seconds.
The official sponsors of the Hamdan Bin Mohammed Center are Al Tayer Motors, Land Rover, Dubai Airports, AW Rostamani (Arabian Automobiles), Global Village and Al Oula Radio.
Follow Emirates 24|7 on Google News.