Filipino boxing legend Pacquiao helps raise over Dh250,000 for cancer charity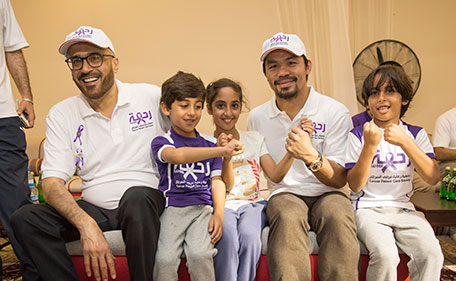 Filipino boxing legend Manny Pacquiao helped raise Dh250,000 for a cancer charity in Abu Dhabi during a fund-raising event at Yas Marina Circuit on Saturday.

Almost 2,000 walkers and cyclists took part in RahmaYAS, wih Pacquiao, who is the patron of Rahma personally making a $50,000 donation on the day.

Rahma, is a new charitable service launched by the Cancer Patient Care Society in Abu Dhabi to provide practical and psychological support for people diagnosed with cancer.

RahmaYAS was a huge success, with a better than expected turnout and proceeds from donations and the Dh50 entrance fee in excess of the Dh200,000 target.

In late afternoon conditions, participants wearing purple or white t-shirts walked three kilometres of the iconic Formula One circuit and cycled one lap.

They also enjoyed the Entertainment Village with live music and healthy food and beverage choices.

Dr Jamal Sanad Al Suwaidi, chairman of the board of directors of Cancer Patient Care Society, said: "It was a fantastic day all round, and we are delighted that so many people in the UAE came out to support us.

"Rahma is a volunteer service that depends on the goodwill of the community, either to make donations through events such as RahmaYAS or to volunteer their time to support people living with cancer. I can assure anyone who took part in RahmaYAS today that they have had a positive impact on the community of Abu Dhabi.

"We were especially delighted that Rahma's patron, Manny Pacquiao, was here to take part in our first fundraiser. His presence was a huge draw, and his passion, determination, and healthy lifestyle was an inspiration to all those who took part today."

Al Tareq Al Ameri, CEO of Yas Marina Circuit, said: "We would like to extend a huge thank you to all the people who made an effort to come to Yas Marina Circuit to support Rahma.

"We're delighted to help Rahma get a fundraising boost to kick-start its community work. What is even more valuable to them is the exposure they have gained among so many members of the public here today. Those living with cancer in Abu Dhabi now know that there is an organisation to support them."

The charity aims to devise support mechanisms that help to ease the suffering that cancer patients and their families go through after being diagnosed with the disease.

It plans to build a database of the world's best cancer hospitals and medical centres and create a free and confidential hotline offering 24/7 advice to cancer patients in both Arabic and English.

An interactive website is also to be launched, providing a means for people to make donations and sign up to the volunteering scheme. It will contain testimonies from cancer patients to inspire others confronting the disease.

Meanwhile, a free-to-download app will highlight the society's key activities and objectives.

Rahma will run a media awareness campaign designed to educate the community about the dangers of cancer and the importance of early diagnosis.

It will also offer group therapy sessions for cancer patients as a forum to exchange experiences and to help them deal with the psychological impacts of diagnosis.

RahmaYAS is among other events including Zayed Marathon, The Color Run and The Walk which are all held at Yas Marina Circuit, the home of the Formula 1 Etihad Airways Abu Dhabi Grand Prix, and which all seek to engage the community in health and fitness related activity.

Follow Emirates 24|7 on Google News.