Four teams vie for honours in Cartier International Dubai Polo Challenge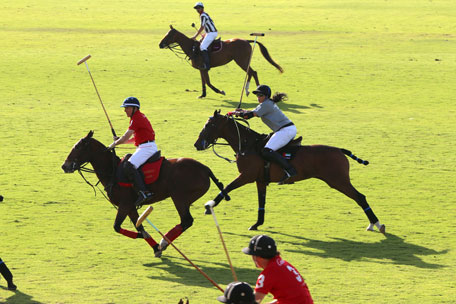 Four pro-am polo teams are preparing to play in the 9th Cartier International Dubai Polo Challenge held under the patronage of HRH Princess Haya bint Al Hussein, wife of His Highness Sheikh Mohammed bin Rashid Al Maktoum, Vice-President and Prime Minister of the UAE and Ruler of Dubai.

The final of this prestigious polo tournament will be held on February 22 at Desert Palm Retreat and Polo Club in Dubai.

This year the final will be played on a Saturday for the first time in the tournament's history, watched by an impressive guest list invited by Cartier to enjoy a sumptuous day of polo and hospitality.

Sheikha Maitha bint Mohammed bin Rashid Al Maktoum, who made her tournament debut a victorious one, last year, is returning to defend her title.

This year, however, she will be playing with her own UAE team, which also features leading Emirati player Mohammed Al Habtoor.

In fact, this year's competition is a reflection of the increased interest in polo in the Middle East today.

Five other patrons are 'local' players, including the Cartier team's Saeed Bin Drai, Faris Al Yabhouni and Amr Zedan of the CNN team, Tariq and Rashid Al Bawardi, sons of the event host Ali Al Bawardi, who are playing for the home side, Desert Palm.

In a marked change from previous years, the sole European representative this year is Adriano Agosti. Once more he is playing for the Cartier team and he will be eager to repeat his 2012 victory.

All the patrons will be playing alongside an equally impressive list of professionals, made up of some notable South American players, including 10-goaler David 'Pelon' Stirling, who will ensure that every match is tough and competitive.

All the games are played at Ali Al Bawardy's beautiful Desert Palm estate, home to one of Dubai's premier boutique retreats, Desert Palm by Per AQUUM.

To ensure that the players' and ponies' style is as elegant as their play, La Martina has been reappointed as the Official Team Kit Supplier.

Teams

Cartier (red): Adriano Agosti (CH) 0; Saeed Bin Drai (UAE) 0; Francisco Elizalde (ARG) 7; Raul Laplacette (ARG) 6

CNN (blue): Amr Zedan (KSA) 0; Faris Al Yabhouni (UAE) 0; Facundo Fernandez Llorente (ARG) 4; David Stirling (URU) 10.

UAE Team (black): HH Sheikha Maitha (UAE) 0; Alfredo Capella (ARG) 8; Guillermo Cuitino (ARG) 6; Mohammed Al Habtoor (UAE) 0.

Desert Palm (grey): Tariq Albwardy (UAE) 1; Rashid Albwardy (UAE) 2; Martin Valent (ARG) 5; Facundo Castagnola (ARG) 6.

Follow Emirates 24|7 on Google News.