Fujairah Grand Prix: Fazza in pole with T-bone chasing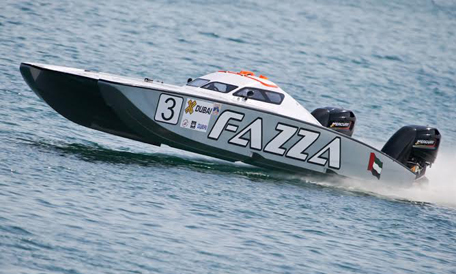 Defending champions Fazza (Arif Al Zaffain and Nadir bin Hendi) will start in the familiar top spot after they recorded the fastest lap in the race for pole position Thursday morning.

Having claimed a clean sweep of titles last year, the duo will aim to get the 2015 season off to a perfect start at Friday afternoon's Fujairah Grand Prix.

Looking as solid as ever, they completed the course in a speedy 2:28.12.

Meanwhile, the team that made their XCAT debut in Fujairah last year, T-bone Station, will start in second spot tomorrow after recording a time of 2:30.18.

T-bone Station's Luca Fendi was unable to be in Fujairah this weekend so Giovanni Carpitella is racing with Ahmed Al Hameli.

"Giovanni is more than a brother, he's like a father to me. We raced together in former series some years ago and we get along well," said Al Hameli.

"But the boat was much different. For me, this weekend was the first time on this very boat, so I had to adapt to the different size, weight balance and set-up."

Speaking of the race for Pole Position, Carpitella added: "We went out with loads of fuel, the set-up was good, and we started with good times aiming to stay in the first four. But the wind changed direction, so we did a quick change of set-up and went out again, lighter (with less fuel) but not much quicker as the wind was rising.

"We're two seconds off Fazza's time, so it will be difficult to fill the gap as they have a perfect package," he added.

Meanwhile, also looking good is the Dubai team of Salem Al Adidi and Eisa Al Ali who will start in third spot after recording a quickest lap of 2:30.42, while the Yacht duo of Francois Pinelli and Saul Bubacco will start in fourth spot after a lap of 2:31.67.

Entry for the general public is free of charge.

For more information on the UIM XCAT World Series, or to watch the action live online, log on to www.xcatracing.com.
Follow Emirates 24|7 on Google News.