Fury says offered $120m to fight Klitschko on Dubai yacht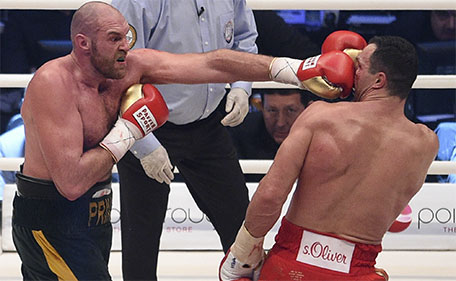 The world heavyweight boxing showdown between Briton Tyson Fury and Ukrainian giant Wladimir Klitschko could take place in the UAE.
Fury expects to reach an agreement over the venue for his rematch with Klitschko in the next 10 days - with England or the UAE the most likely, according to reports in the British press.
Qatar and Abu Dhabi are in the fray to host the heavyweight showdown, which will see Fury put the WBA, WBO, IBO and Ring belts he won from Klitschko in November on the line.
However, Fury has claimed a tycoon in Dubai has offered to host his world heavyweight title rematch with Klitschko aboard a private yacht in a bout that could have been worth $120 million (£80m), according to espn.com.
The showdown would only be available to 120 people, each paying $1 million, the report added.
Fury has been quoted as saying: "There are five possible venues. I'm hoping it's not going to go back to Germany. I'd rather go to Abu Dhabi or Qatar than there
"We even had negotiations to have it on a cruise ship." He said there was an offer from someone in Dubai who owned a yacht which would fit only 120 people on.
"He didn't want to broadcast the fight anywhere and he said he could sell 120 tickets at $1m each, so that would have been $120m.
"He wanted to have an exclusive heavyweight championship of the world fight with no TV station, with just those 120 people watching.
"He didn't say how much I would get, but I probably would have had the biggest half of the $120m - so I was all for it. I don't think it's possible now, but it would have been an epic story."
Dubai and Abu Dhabi previously made a bid to host the 'Fight of the Century' between Floyd Mayweather and Manny Pacquiao.
Filipino boxing legend Pacquiao also showed interest in staging a fight in the Middle East during a visit to Dubai last year with Briton Amir Khan as a possible opponent.
Follow Emirates 24|7 on Google News.