Gems Westminster School - Sharjah wins maiden Cozmo Champions Cup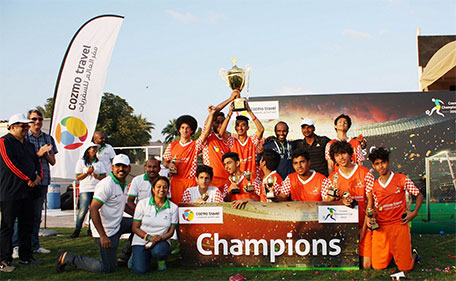 Gems Westminster School - Sharjah emerged winners of the maiden Cozmo Champions Cup, an inter-school football tournament held at the Wanderers Club in Sharjah, while the Sharjah Indian High School claimed the runner-up trophy.

Gems Westminster School claimed the victory via sudden death after the teams were tied on 3-3 after the initial duration of play and penalty shoot-out.

The tournament was organised by Cozmo Travel, a member of Air Arabia Group, in association with Sharjah Sports Council, National Olympic Committee and the UAE Sports for All Committee.
This was a one-day, seven-a-side format football tournament for school students.
The inaugural edition of the annual football championship attracted participation of teams from 16 schools across Sharjah, Ajman and Ummul Quwain emirates this year.

Kareem Mohammed of Gems Westminster School bagged the 'Top Scorer' trophy for scoring six goals; Said Mohammed of the same school won the 'Best Player' title; and Mohammed Bazim of Sharjah Indian High School was adjudged the 'Best Goalkeeper'.

"This, being the initial phase of the tournament, the teams are set up with students from high school level. The inter-school football tournament is aimed to pave the way for youth to promote physical activity, sporting talents and aptitudes, while fostering and building a healthier lifestyle at a shape-up phase in their lives. The tournament will be expanded from next year onwards targeting high schools and universities in the respective emirates. In future, we are also looking into conducting football matches for universities and corporate entities in the UAE," said Jamal Abdulnasar, CEO - Cozmo Travel.

Saeed Ali Mohammed Al Aajil, Director of Social Service at Sharjah Sports Council, said, "Sharjah Sports Council - Government of Sharjah has always encouraged sports activities to develop both physical and mental abilities of the youth. Our strategy is in line with the approach of the country's forward-thinking leaders, who stress on the importance of sports and extend constant support to sports enthusiasts. We hope this tournament will create new opportunities for students to experience football on a level where they practice leadership, commitment, fair play and teamwork."
Follow Emirates 24|7 on Google News.