Gold medal-winning Olympian Mo Farah brings Dubai to life using 360-degree technology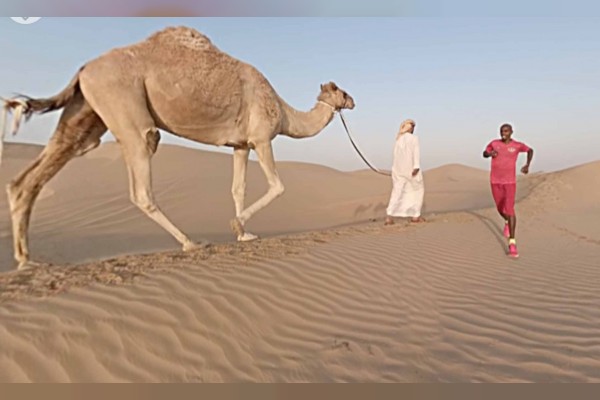 Today, people around the world will be given the opportunity to go on a 360-degree virtual running tour of Dubai with the world's greatest distance athlete, Mo Farah, as their tour guide.
Using the latest 360-degree Nokia OZO camera, viewers will be able to not only get up close and personal with Sir Mo Farah and his inspiring athletic ability, but also experience Dubai via immersive technology, which allows the spectator to view the city's diverse landscapes.
Mo's run begins in the majestic Dubai desert, whose rippling dunes surround the city. Swapping sand for tarmac, viewers will be taken on a trip through Downtown Dubai, experiencing The Dubai Fountain, the world's largest choreographed fountain with jets of water reaching up to 140 metres high, and the striking architecture of the Burj Khalifa, the world's tallest structure at 829.8 metres tall. From there, the tour continues along Dubai's coastline, passing some of the city's favourite beaches, before finally taking in the sunset in front of the iconic Burj Al Arab, often billed as the most luxurious hotel in the world.
Throughout the run, Mo gives viewers an insight into his training life, offering inspirational words and disclosing what really motivates and drives him.
Mo Farah said, "Dubai is a city like nowhere else in the world. I have visited a number of times and I am always blown away by the architecture, the culture and the experience. It's been great to be involved in something that manages to really highlight everything Dubai is about, and showcases the city to those who haven't yet been here. I can't wait to visit again, although perhaps with a bit less running!"
Issam Kazim, CEO of Dubai Corporation for Tourism and Commerce Marketing, said, "Dubai is an iconic city with diverse attributes and clear aspirations, so it is fantastic to welcome a highly respected world-class athlete like Mo Farah to tell our story in such a unique way. The 360-degree technology really showcases the city's offering through Mo's eyes and experiences, taking viewers as close to the actual journey as possible."
Follow Emirates 24|7 on Google News.