Ibrahim stars in Yas Super Street Challenge Round Two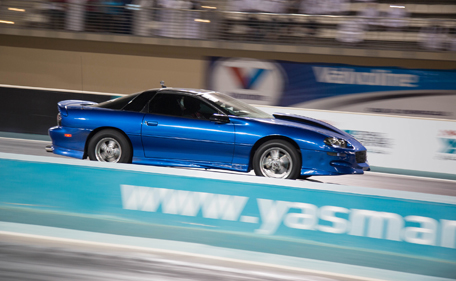 Hisham Ibrahim emerged as the star performer at Yas Super Street Challenge Round Two held at the Yas Marina Circuit during the weekend.

Ibrahim won the 'Super Street Open' and 'Super Street' races and bag prize money of Dh30,000.

Throughout Thursday and Friday, more than 60 drivers from the UAE lined up to battle for the title 'King of the Street' across five distinct categories – '4x4 Super Street SUV'; 'Index 11.5'; 'Index 10.5'; 'Super Street' and 'Super Street – Open Category'.

During each of the four rounds in the series, cash prizes for first (Dh15,000), second (Dh10,000) and third place (Dh5,000) are on offer to the top three racers in each category.

Spectators were treated to some thrillingly raw racing as drivers unleashed the power of their cars on Yas Marina Circuit's purpose built drag strip.

After an evening of fierce competition, Ibrahim beat Salman Al Hail into second place followed by Mohamed Al Hammoy in the 'Super Street Open Category'.

The category of 'Super Street' was also a closely fought battle, but once again Hisham Ibrahim claimed first place, with second and third places awarded to Salah Al Amoudi and Mohamed Al Hammoy, respectively.

The precision challenge demanded by the 'Index 10.5' category saw Salah Al Amoodi claim the first prize for the second time with Ronald Potts and Fadi Tamour following closely in second and third place, and the 'Index 11.5' category top prize was awarded to Ibrahim Mubarak, with Naser Al Mahmoud and Mohamed Abdul claiming second and third.

The final category, proving very popular with the fans, was the '4x4 Super Street SUV' category Khalid Albasti beat all comers to finish first, as Talal Al Doukhi and Salim Chabbadi's run timings placed them in second and third.

Saud Al Qaydi, Motorsport Manager at Yas Marina Circuit, said: "We have enjoyed yet another fantastic weekend of racing at Yas Marina Circuit and we are delighted to be able to offer the large underground street racing community in the UAE a safe and controlled environment to compete in. The competition is building as the series continues and I'm very much looking forward to round three."

To catch up on the weekend's drag action, as well the latest motorsport and racing news, visit YasTV: https://www.youtube.com/YasMarinaCircuit

For more information on the next rounds of the Yas Super Street Challenge, please visit: www.yasmarinacircuit.com or call 800 YAS (927).

Follow Emirates 24|7 on Google News.