ICC Under 19 Cricket World Cup: India and Pakistan favourites to progress to Super League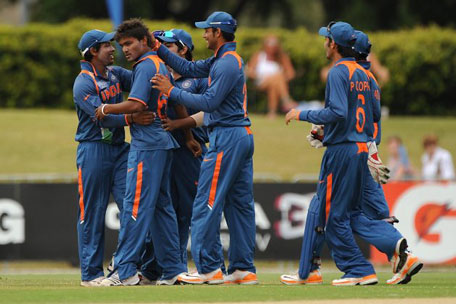 Defending champion India and two-time former winner Pakistan are favourites to progress to the Super League quarter-finals from Group A in the ICC U19 Cricket World Cup UAE 2014 that will be staged across the UAE from February 14 to March 1.

The two sides will go head to head at the Dubai International Stadium on Saturday February 15 in a match that is expected to decide which side tops the group.

India, to be led by Maharastra's stylish top order batsman Vijay Zol, along with Australia, is the most successful side at this level having won the tournament three times.

Mohammad Kaif inspired India to the title in Sri Lanka in 2000, while Virat Kohli led from the front in Malaysia when India regained the title in 2008.

However, Pakistan remains the only country to have won the tournament back-to-back.

Khalid Latif led Pakistan to the title in 2004 in Bangladesh, while Sarfraz Ahmed's boys retained the crown when the event was staged in Sri Lanka in 2006.

This month, Pakistan will be led by Lahore's opener Sami Aslam as the green shirts will join India and Australia in their quest to reclaim the title and become the only sides to have won the tournament three times each.

Also in Group A are Scotland and Papua New Guinea (PNG).

Scotland, which reached the plate championship semi-final in 2012, has qualified from the Europe Region while PNG will feature in its seventh tournament after defeating Vanuatu by 45 runs in the final of the East Asia-Pacific U-19 Championship in July 2013.

PNG first appeared in the 1998 edition but its best performances came in 2008 and 2010, when it reached the plate semi-finals. In Townsville, PNG finished 14th.

Looking forward to the tournament, India captain Vijay Zol said: "As the defending champion, India will be marked out from the start as the team to beat. The tournament format is very exciting, and apart from its arch-rival Pakistan, India also has two competent and motivated sides in Scotland and PNG to contend with."

Previewing the match against Pakistan, Zol said: "While it is always special and different to play against Pakistan as opposed to playing against anyone else, we won't feel any added pressure in that game.

"Having beaten them in the recent ACC U19 Asia Cup final in the UAE recently, we feel we may just have the psychological edge in that match."

While mentioning how India is focusing on all three departments, Zol revealed: "We are paying a lot of attention to detail, and in particular focusing on basic skills such as fielding and running between the wickets."

Reviewing Group A, Sami, who like Zol will be appearing in his second World Cup, said: "We faced Scotland in 2012 and beat them comprehensively, so they'll be gunning for revenge. PNG seems to be in good form and India is always tough, so we'll have to be at our best and Inshallah will qualify strongly for the Super League."

Sounding confident of his team's chances, Sami added: "Before the ACC U19 Asia Cup final, we were on a winning streak of about 20 matches, and also beat India. So we're upbeat about our chances not only in our high-profile first game against India, but beyond that as well.

"Our strengths, which are our batting and spin bowling, have always served us well in the UAE."

PNG's man at the helm, Dogodo Bau, outlined his team's specific preparations saying: "Our weather conditions are similar to those in the UAE, so our practise sessions have been productive.

"There are nine players currently based in Gold Coast clubs in Australia that are getting used to the weather," he added.

Ross McLean, who will captain Scotland, said his team will try to improve its 2012 performance.
"Our target is to finish higher than we did in 2012, which was 11th.

"The exciting tournament format means you need to win only a couple of games, including an upset, to progress. And yet, while we know the matches against India and Pakistan are going to be the toughest, we've had it tough against PNG as well, in the past," he added.
Follow Emirates 24|7 on Google News.